The Power of ONE 
During our years as Pi Phi collegians, we were filled with passion for the values and traditions our sisterhood holds dear. As we began alumnae life after graduation, we knew we wanted to stay involved, but we weren't sure how. When we learned about the Fraternity Day of Service Signature Event taking place in Detroit in 2016, we both jumped at the chance to serve on the committee. Taking a leap out of our comfort zones, we were immediately connected with generations of alumnae through a shared love of literacy and our core values. In one short weekend, we met hundreds of Pi Phi sisters and built friendships that continue to flourish years later.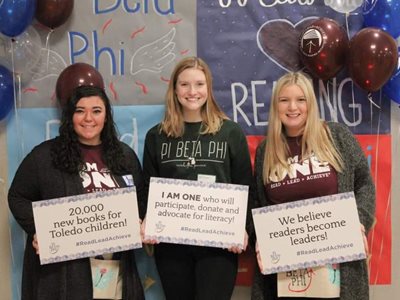 More importantly, we witnessed the impact Pi Phi was able to make in the Detroit community. We celebrated as 20,000 new books made their way into the hands of children and educators who needed them most. Seeing our ability to make a difference ignited a fire within us that refused to be extinguished. When Toledo, Ohio, was chosen to host a Signature Event in 2020, we once again found ourselves eagerly volunteering to serve on the committee and loving every second of the experience! Just as we had in Detroit, we stood in awe as 20,000 more new books were donated to members of the community. We felt so inspired by the Pi Phis working side by side to share a lifelong love of reading with children.
With Signature Events temporarily on hold, we're continuing to find ways to make an impact. We're thrilled to be part of Pi Phi's continued commitment to literacy at a time when children and educators in communities across North America desperately need help. The COVID-19 pandemic has created more barriers to promoting literacy than ever before. Many schools and organizations are being forced to spend already-stretched educational funding elsewhere, leaving fewer resources for reading materials. As young professionals in education, we've already seen the detrimental effect this has had on small communities in our area. With virtual learning and limited opportunities for children to improve literacy skills, we anticipate an achievement gap that may challenge our youngest generations for years to come. And, we know communities across the United States and Canada need help, just as ours does.
Showing determination and perseverance, the Fraternity isn't letting the pandemic slow our philanthropic efforts. Since last March, Pi Phi leaders have partnered with First Book to get literacy resources and reading materials to those who need them most. Yet thousands of schools and organizations that are eligible for First Book assistance often don't realize they qualify for these resources or know how to access them. That's why we're asking every sister to support Pi Phi's spring literacy initiative! In every community where Pi Phis live and work, there are educators, schools and organizations in need. All it takes is a few minutes to reach out through a text, email or social media message and encourage them to register for First Book membership.
Through a simple act of literacy advocacy, you can be ONE who makes a difference — and whether it's at a Signature Event or a club book drive, we've witnessed firsthand what the power of one can do. All it takes is one person to inspire change, one message to deliver resources and one book to change a child's future.
Learn more about the initiative at pibetaphi.org/literacy and download the tools to get started here.

Published March 18, 2021