Welcome to the Wine and Silver Blue
Over the weekend, nearly 900 New Members joined together for our first-ever virtual Initiation. Due to the fast-growing COVID-19 pandemic, the Spring 2020 term ended abruptly for every Pi Phi chapter, and 1,432 New Members left their campus without the opportunity to be initiated. Thanks to the creative minds and support of Fraternity officers and Headquarters staff, on Saturday, August 8, 2020, Grand President Marla Neelly Wulf virtually initiated 863 members.

Kansas Alpha Lois Williams shared "Today's virtual Initiation was wonderful! For my family, this is a third generation Pi Phi. We were worried when universities started to close because no one knew if sororities would initiate. Thank you for making this a success. We had our own Pi Phi masks and hosted a Cookie Shine of our own to celebrate."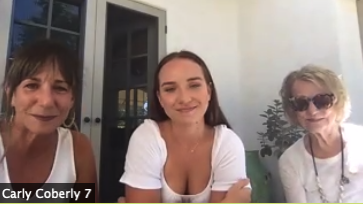 Lois wasn't alone in celebrating this historic moment among family. California Xi Carly Coberly was initiated with both her mother and grandmother by her side using the pin of her great-grandmother. After her Initiation ceremony, Carly and her family were able to share their legacy of Pi Phi sisterhood with Grand President Marla Neelly Wulf.


Members across North America joined together both in-person and virtually to celebrate this momentous occasion. From big and little sisters, to friendships formed in New Member classes, sisters found their own unique ways to honor the day. We gathered a few of our favorite photos commemorating the weekend's special celebration.
Taylor York, Rishika Chavali and Maria Curran, New York Epsilon


Kylie Shelon, Ally Carducci and Kayleigh Reed, California Omicron


Kamryn Shields, Mississippi Gamma



Congratulations to the 863 newly initiated members of Pi Beta Phi! May your arrows be ever pointed upward.

Published August 12, 2020