Together in Pi Phi
I always thought my four years as a collegiate member taught me everything there was to know about Pi Phi's core value of Sincere Friendship. My chapter sisters encouraged me and challenged me daily to push myself out of my comfort zone and be the best version of myself. However, I always looked at my friendships in Pi Phi through the context of what was closest to me and what I knew best – my California Epsilon sisters at San Diego State University. It wasn't until I applied to be a Leadership Development Consultant (LDC) and flew out to Saint Louis for Interview Weekend that I saw Sincere Friendship from a different perspective.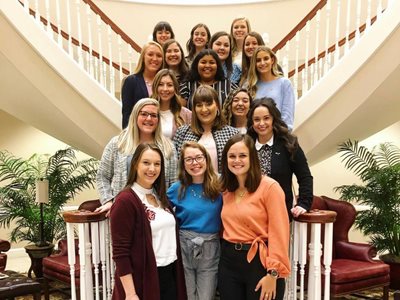 Interview Weekend gave me the opportunity to meet incredible women from Pi Phi chapters across the country. We were strangers to each other, but our shared identity in Pi Phi made us feel at ease. I almost felt like I had met these women before. Pi Phi Ritual, shared values and commitment to the Fraternity bond sisters from all over the country and spark an immediate deep connection when you get to know a sister you have never met.

Not only did I feel connected with this group of women and was able to form close friendships, but they were supportive of me and had my best interest at heart even in a competitive environment. When I mustered up the courage to make my way to the front of the room to give my speech on the Pi Phi value that resonates with me most, I could feel my legs wobbling and my palms sweating. Public speaking has never been my strong suit, and it was showing. I was reciting my speech with my shaken voice, until I look out into the audience and saw a room full of my sisters, nodding encouragingly at me and smiling. These people I had known for three days were invested in me, what I had to say and my future endeavors. In that moment, they gave me the strength to keep going and push past my nerves and anxiety. My Pi Phi sisters have continually motivated me to live outside of my comfort zone, whether I was being encouraged to apply for the position of Chapter President, interview for the LDC position or give a speech at Founders' Day. Getting comfortable with being uncomfortable is where real growth happens. My sisters have inspired and motivated me to reach my full potential and take actions that contribute to the betterment of society.

While Interview Weekend will be virtual this year, in my role as an LDC I have seen how virtual connection is still possible and valuable! I still have the ability to connect with collegians and get to know them on a personal level, despite the fact that this year was not what I expected. I have no doubt our resilient collegians and the Fraternity will be able to meet this moment and create a memorable experience for the candidates that fosters connection and Sincere Friendship.
Are you interested in building relationships with Pi Phis across North America? The 2021-2022 Leadership Development Consultant Application is now open. Applications are due January 24, 2021. Learn more and apply.

Published January 12, 2021