When in Doubt, Plié
Be observant. Listen. Never stop learning. Make room for growth. If I could offer advice to any of my Pi Phi sisters — collegians or my fellow alumnae — it would be to keep those four goals in mind. The past year has been emotionally difficult, but I believe we will all persevere if we continue to speak kindly and truthfully to ourselves and be proud of our accomplishments while learning from our disappointments. I say that as someone who not only knows I don't handle disappointment well, but who also works in an industry filled with disappointment and hearing the word "no" many times before getting to a "yes."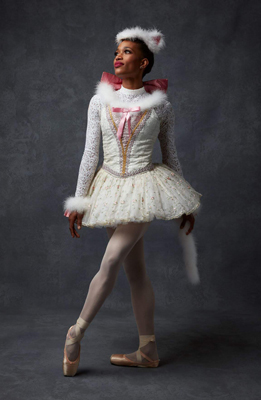 As a professional ballet dancer with Northwest Arkansas (NWA) Ballet Theatre in Bentonville, Arkansas, my career experiences differ from those of most of my Pi Phi sisters. This is my second season with the company and my 11th year dancing professionally. With ballet, a lot of disappointments are out of my control, like casting and positions in companies. It is hard to separate not fitting a part or a specific position from personally not being enough. For me, first there are tears, then I do something that makes me happy. I'm grateful that one of the things that continues to make me happy is ballet; even with the ups and downs, I love being able to express myself and whatever I'm feeling through dance.

My career in ballet is a daily challenge to improve myself as a dancer, be it technique or artistry, to be a vessel to audiences and my community. Each day is an opportunity to step into a character or a place and take whoever is watching on a journey with me. My typical workday consists of a ballet class, rehearsal and teaching ballet. Class is typically an hour and a half, which prepares my body for rehearsal and allows me time to improve my technique. To someone unfamiliar, it may seem like my main workday is spent on stage during a performance, but in reality, rehearsal can be up to six hours a day as I work on multiple ballets or various roles from the same ballet!
The physical aspect of ballet is another place I find joy and fulfillment in my work. There is an intimacy in knowing how my muscles and joints work together to make beautiful lines and shapes and knowing when something is not tuned correctly. That relationship is empowering and allows me freedom to grow my artistry. That relationship is where I find empowerment and strength in ballet; the costumes, photoshoots, pointe shoes and galas are all icing on the cake!
It's personally important to spread my love for this art, as well as empower future leaders beyond the dance world. After rehearsal, I teach ballet classes to students aged seven to 70! I enjoy teaching in addition to performing as it's a wonderful way to share the art. I've also had the pleasure of serving on the North Carolina Delta Alumnae Advisory Committee for nine years. Leading in these capacities taught me that no matter what I do in life, setting the right example is more important than being the best or having the most. To me, earning others' respect through my actions is success.
I try to empower potential in others the same way I've been empowered by those around me. The best advice I have ever received is "plié" – as it applies to both life and ballet. In ballet, it means to bend and is generally a movement where dancers find grounding to move to the next position, but it applies to life too. Bend with what comes your way. Stay grounded and don't allow anyone to derail you.
Read more about Carmen in the Winter Arrow.