Evelyn Peters Kyle 2019 Award Winner and Finalists
The Evelyn Peters Kyle Angel Award for Club Service
is presented to an individual alumna who has served her alumnae club by performing those duties that often go unrecognized but serve to enhance the success of an alumnae club. These awards are presented in honor of Evelyn Peters Kyle, an outstanding leader of Pi Beta Phi who gave over 75 years of service and leadership to the Fraternity. With 2020 award nominations underway, we are highlighting the 2019 Evelyn Peters Kyle Award winner and finalists.
Winner: Vicki Petsch Wilson, Wyoming Alpha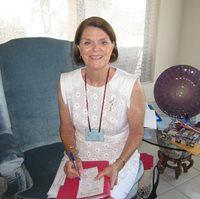 Vicki joined the North San Diego, California, Alumnae Club in 1982 and has given greatly of her time and talents ever since. Throughout her time in the club, she served as the Alumnae Club Recruitment Information Chairman, Communications Chairman, Ways and Means Chairman, Treasurer, President and Co-President. In every position, Vicki has kept club members connected through her constant communication with members, invitations to potential members and new member welcome bags.
In addition to Vicki's support of the club, she has attended numerous initiation ceremonies and celebrations for chapters including Wyoming Alpha's 100-year celebration and California Xi's establishment.
Finalist: Mary Grable McLeod, Illinois Alpha
Mary Grable McLeod has been an active member of three separate alumnae clubs over 35 years. As Alumnae Club President for the Palo Alto, California, Alumnae Club, Mary quietly inspired officers to new levels of commitment. She organized a small group responsible for reaching out to local alumnae and inviting them to renew their connection with the alumnae club. Mary also reached out to elderly members of the club and provided support through frequent phone calls or regular visits.
After serving as Club President, Mary took on the role of Membership Chair, diligently keeping the list of local members up to date. She streamlined the list and sorted it into different segments to reach young alumnae, Diamond Arrows and specific neighborhoods in the area.
Finalist: Patricia Phelps Rae, Colorado Gamma
In her 23 years of membership in the Cypress Creek-Northwest Houston, Texas, Alumnae Club, Patricia has contributed to the club by serving in several roles as club officer, committee chair and committee member. Since 2002, she has assisted in producing the club's yearbook serving as typist, writer and printer. Patricia also initiated the club's literacy involvement with Cy-Hope, an organization supporting at-risk children in the area.
Besides her service to the club, Patricia also supports individual club members. When Hurricane Harvey caused flooding in Cypress Creek, several club members' homes were flooded. Patricia helped by removing damaged items, purchasing storage materials and arranging storage for family heirlooms.
Do you know an alumna who is essential to the success of your alumnae club? Nominate her for a Pi Phi Award! Nominations will close February 15, 2021. The full list of awards is available here.

Published February 2, 2021