Send a Virtual Halo through Pi Beta Phi Foundation Halo Heaven 
At the 2011 Orlando Convention, Pi Beta Phi Foundation offered convention attendees a special way to celebrate their sisters while supporting our Foundation. Halo Heaven has become a convention tradition, providing an opportunity for anyone to honor the special Pi Phis in their lives and ensure the future of our sisterhood. Since its launch, Pi Phi members and friends have raised $408,964.32 for our Foundation's Friendship Fund.
To acommodate this year's virtual convention experience, Halo Heaven transformed into an opportunity to virtually recognize, celebrate and honor the special Pi Phis in our lives. Whether this is your first time sending a halo or you're in need of a refresher, we've outlined five easy steps to help you honor the special Pi Phis in your life through our virtual Halo Heaven.
On the Halo Heaven home page, you can view the Angel Honor Roll listing sisters and friends who have been honored with virtual halos along with updates to the donor roll, the number of halos sent and the amount raised for our Foundation.
To kick off Convention 2021, an anonymous angel sent every convention attendee a virtual halo!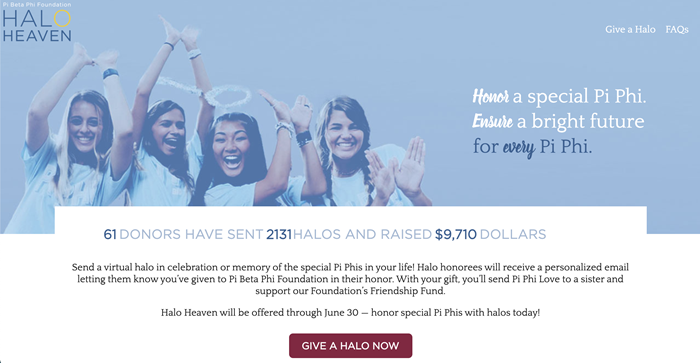 2. Select your amount. 

After clicking "Give a Halo Now," log in to your Pi Beta Phi member profile then select your gift amount. With every $5 of your gift, you can honor a Pi Phi sister, volunteer or Headquarters staff member with a virtual halo. Make a list of the Pi Phis you want to celebrate; you can send up to 25 halos in a single transaction!





3. Confirm your information. 

If you're logged into your Pi Beta Phi account, the information from your member profile will appear automatically. Although your chapter may be grayed out, your member profile will connect your name and chapter. Does your account include out-of-date information? Update your profile!
If you don't have a Pi Beta Phi account, manually enter your information to continue.





4. Find your halo honorees. 

Honorees will receive their virtual halos by email if they have a valid email address on file, letting them know you've made a gift to our Foundation in their honor, and their names will be featured on our Angel Honor Roll. Halos sent in honor of sisters who are no longer with us will not receive email notifications, but their names will be included on our Angel Honor Roll.
If you know the names and email addresses for your halo honorees, you can manually enter their information along with a personalized message to each recipient. Not sure which email address to use? After logging into your Pi Phi account, select "Tribute Lookup" to search for sisters using their first name, last name or chapter (listed as "company" in the search function).





5. Enter your payment information and send your halo! 

Congratulations – you've honored sisters and friends of Pi Phi with virtual halos! Every halo benefits our Foundation's Friendship Fund which supports Pi Phi's areas of greatest need, from helping fund member programs to providing the resources needed to sustain our sisterhood.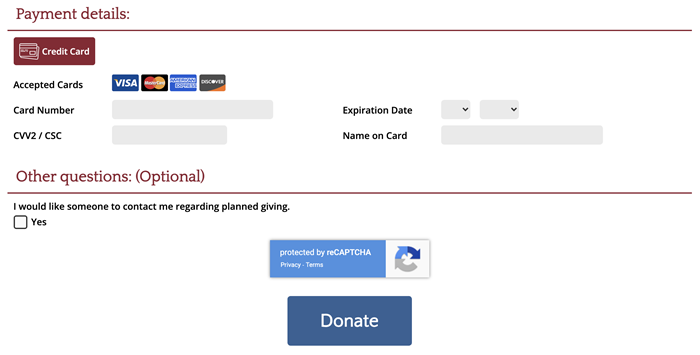 Halo Heaven will be offered through June 30 – keep the celebration going by sending halos leading up to and throughout Convention 2021!

Published May 29, 2021