Emma Harper Turner 2020 Award Winner and Finalists 
The Emma Harper Turner Leadership Award is presented to an individual alumna who provided exceptional leadership that contributed to the success of their alumnae club at the local level. This award is presented in honor of Emma Harper Turner who established the Alumnae Department in 1893. With 2021 award nominations underway, we are highlighting the 2020 Emma Harper Turner Leadership Award winner and finalists.
Winner: Susan Jonnatti Maxwell, Pennsylvania Zeta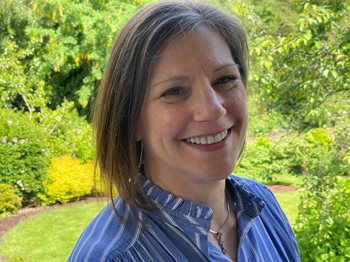 Throughout her time at the Lake Oswego-Dunthorpe, Oregon, Alumnae Club, Susan has served as a leader in several capacities including Communications Chair, Fraternity Day of Service Signature Event Chair, Co-President and President. As evidenced by the club's many awards during her tenure, Susan sets goals and sees them through.
Despite difficulties presented by the COVID-19 pandemic and wildfires in the area, the Lake Oswego-Dunthorpe Club retained their membership in 2020 and even grew to include 11 new club members. Susan plays an active role in welcoming new members and encouraging them to get involved. She leads by example with her attendance at events, participation in interest groups and financial support. Susan is a great communicator, taking time to listen to members before responding with action. Her positive attitude and constant support help make the alumnae club experience enjoyable for both officers and members alike.
Finalist: Jenae Grader, Kentucky Gamma
Jenae joined the Northern Virginia Alumnae Club in 2007. Throughout her involvement with the club, she has held several roles ranging from Webmaster to Chair of the Mom's Interest Group. However, her greatest contribution has been her involvement with the installation and development of the Virginia Iota Chapter at George Mason University. Due to Jenae's previous Advisor experience, she was enlisted to join Virginia Iota's Alumnae Advisory Committee (AAC) where she served as the Advisor to the Vice President Finance, Vice President Community Relations and, later, AAC Chair.
Jenae's close ties with the Virginia Iota Chapter have greatly impacted the number of young alumnae involved with the Northern Virginia club. She goes above and beyond the standard programming which encourages seniors to join an alumnae club after graduation. By sharing her experiences and involvement, she continues to inspire young alumnae to pursue a Lifelong Commitment to Pi Beta Phi.
Finalist: Candice Taylor McClung, Montana Alpha
After joining the North San Diego, California, Alumnae Club in 2005, Candice immediately became heavily involved with club activities and programs. Throughout her tenure on the club's leadership team, Candice served in many roles including President, Recording Secretary and Vice President of Programs. Her extensive time spent as an alumnae club officer has encouraged long-range planning and success.
Candice is a Diamond Arrow member and active 95-year-old who is always willing to volunteer and help contribute to the success of the North San Diego Club. At the age of 87, when the club needed a member to take on the responsibilities of Treasurer, Candice took it upon herself to learn new skills including Microsoft Excel. Even in her role as Treasurer, Candice went above and beyond by reaching out to potential new club members and encouraging them to consider joining the North San Diego club.
Finalist: Debbie Patrk Vinyard, Oklahoma Alpha
Debbie has served the Tulsa, Oklahoma, Alumnae Club for more than a decade with her positive attitude and contagious energy. Her enthusiasm led her to consistently serve in leadership positions, serving as Vice President Finance for three terms and, later, Alumnae Club President. As President, Debbie added three young alumnae to the club's board which provided plenty of energy, new skills and ideas. Under her leadership, club membership flourished and the Tulsa Club was recognized for their excellence in membership and recruitment.
Beyond her role as a club officer, Debbie is effective in organizing much of the work that happens behind the scenes. As a CPA and businesswoman, Debbie is an exceptional problem solver and brainstorms creative systems for volunteer efficiency and effectiveness. She connects with people easily, encouraging those who are facing challenges and creating meaningful dialogue and collaboration.
Know an alumna who provided exceptional leadership to their alumnae club in 2021? Nominate them for a Pi Phi Award! Nominations are now open and will close February 15, 2022. The full list of awards is available

here

.

Published January 11, 2022