Lobbying for our Future  
Earlier this week, a team of Pi Phis across the United States virtually lobbied Congress on behalf of the Fraternal Government Relations Coalition. Each member had the opportunity to share their sorority experience and advocate for legislation impacting the fraternity/sorority community. Read their biggest takeaways below!
Grace Haffner, Virginia Gamma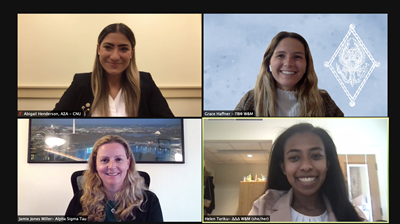 Working to get important legislation included in bills like the Higher Education Act helps to secure the future of fraternity and sorority experiences on college campuses. Lobbying, especially when it comes from students, is important to show how our experiences as members of sorority life are empowering, unique and worth protecting. Being a member of Pi Beta Phi at William & Mary has been a transformative experience, and one that has prepared me for life after graduation. In order for future students to have access to these same lessons and opportunities, lobbying for the importance of freedom of association and anti-hazing is an important step and something to continue building upon.
McKenna Plowman, Washington Beta
Lobbying on behalf of Pi Beta Phi was an incredible experience. The bills that we discussed with members of Congress and their staff are instrumental in preserving the longevity of Pi Beta Phi, the sorority experience and the entire fraternity/sorority community. We must continue to have these conversations about anti-hazing legislation and the right to associate with a single-sex organization with state and federal officials to ensure every member and future member's sorority experience is the safest and most rewarding it can be. My biggest takeaway is that continued lobbying efforts are necessary to safeguard the sorority experience for generations to come!
Tori Vasquez, California Epsilon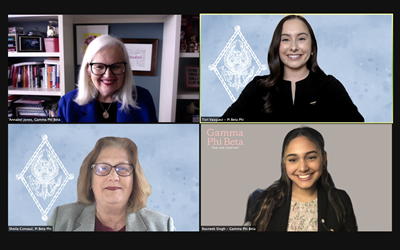 I was interested in lobbying on Capitol Hill because it provided an opportunity to speak directly with congressional members and advocate for legislation that directly impacts the fraternity/sorority community. Raising awareness about these issues at the federal level provides our organizations with more leverage to enhance and preserve the sorority experience. My biggest takeaway from this experience was the widespread influence of fraternity/sorority life. Both the staffers and representatives, whether they were affiliated or not, recognized the benefits our organizations provide and how we positively impact universities. This experience was incredible; if any Pi Phi receives the opportunity to be a student lobbyist - DO IT!!! I was met with kindness from every individual and the discussions were significant and insightful. Lobbying is important to the sorority experience because it provides us with a space to share our experiences with those who govern us. Beyond this, congressional members can assist us in enacting widespread change across universities to ensure that we create a community that is safe, encouraging and prosperous for those who wish to join.

Published April 18, 2021