The Support of Sincere Friends
With each sister welcomed into Pi Beta Phi, there is a shared promise of long-lasting support. The bonds members make during their collegiate years are lifelong and stretch beyond ordinary friendship. Fifty years after graduating, Colorado Beta Cissy Whetsel Smucker remains just as connected to her Pi Phi sisters. "Pi Phi was part of my life when I was in college, but what has given me such pleasure is everything that followed," Cissy says.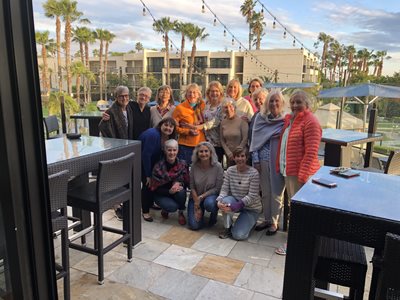 Cissy regularly meets with a group of her Colorado Beta sisters, sometimes in person other times from a distance. From St. Louis, Missouri, and Savannah, Georgia, to sending cards and emails, Cissy and her sisters always have a fun time when they get together. "It's wonderful to still be connected to those who you knew from 50 years ago," Cissy says. "My sisters are so kind, loving and giving, and their friendship makes me want to give back to Pi Phi."
As a member of the Evelyn Peters Kyle Society, Cissy annually makes gifts of $1,000 or more to Pi Beta Phi Foundation. For Cissy, giving back to our Foundation is how she supports Pi Phis across our sisterhood. Her deep commitment to sustaining our sisterhood makes it possible for members to develop lifelong connections, realize their potential and become women who enrich the lives of others. "We support each other in small ways," Cissy says. "A loving concern for each sister—that's what we do."
Cissy's annual gifts provide Pi Phi with support for leadership development, scholarships, reading initiatives, housing, heritage and grants for sisters in need. "When our Foundation asks for my support, I am always glad to give it," Cissy says.
Our Foundation is uniquely focused on helping Pi Beta Phi fulfill its mission—promoting friendship, developing women of intellect and integrity, cultivating leadership potential and enriching lives through community service. More than anything, Cissy hopes her support to our Foundation will help fulfil the work of the Fraternity so more sisters will benefit from the support of sincere friends.
"Pi Phi has given me wonderful sisters for 50 years," Cissy says. "It's a testament of our sisterhood that you can still be in contact with Pi Phis 50 years after graduating."
During the month of March, Pi Beta Phi celebrates members of the Evelyn Peters Kyle Society—donors who annually make gifts of $1,000 or more to Pi Beta Phi Foundation. To the many members who make up the Evelyn Peters Kyle Society, thank you for your deep commitment to sustaining our sisterhood—we're grateful for your enduring loyalty and generosity.

Published March 16, 2022