Celebrating our Impact
Pi Beta Phis have long understood that reading has the power to change lives. That belief sparked our earliest philanthropic efforts and still inspires our literacy work today, as we continue to make an impact in communities across North America. During Read > Lead > Achieve® Month, we celebrate the ways Pi Phis participate, donate and advocate for literacy through our reading initiatives. 
Each year, alumnae clubs and chapters can nominate local schools and literacy-focused organizations to receive grants through Pi Phi's FDS500 program. The grants are used to purchase books from First Book®, which are then given to children in need. Last September, clubs and chapters brought 43,506 new books to 84 schools and literacy-focused nonprofits through FDS500 grants.
The Alpharetta, Georgia, Alumnae Club nominated Summerour Middle School for the program to create a more expansive reading experience for all students. "Your grant allowed us to order many initial readers for our special education students—our teachers were very excited to get those," shared Lee Robinson, the school's media specialist. "We also now have many other new books for classroom libraries, our main collections and for awards for students. Thank you again for what you do to help local communities and, specifically, our Summerour students."
Fall 2021 also saw the return of Pi Phi's Champions are Readers (CAR) program to elementary school classrooms. Designed to create an interactive reading and mentoring relationship between Pi Phis and children in their local communities, CAR engages children in a positive reading experience and allows participants to accommodate students' varying academic needs. Through the program, Pi Phi distributed 3,071 books to children during the 2021-2022 academic year.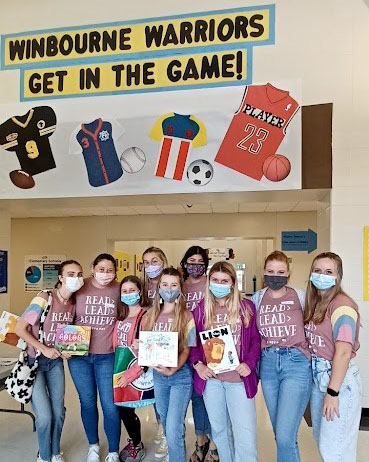 The Louisiana Beta Chapter participated in CAR with students at Winbourne Elementary School in East Baton Rouge. "I love to see reliable volunteers who take their service seriously and still have fun—thank you for supporting Winbourne Elementary," said Kaia Simmons, Volunteer and Community Partners Director for East Baton Rouge Schools.

In the spring, the 2022 Fraternity Day of Service Signature Events benefited 519 recipient groups in Nashville, Tennessee, Los Angeles and many communities across Michigan. The events in Los Angeles and Lansing, Michigan, pivoted to virtual distributions and saw immense success in the online marketplace utilized by recipients. All books were claimed within days of registration opening, and recipients shared their gratitude for the support of their students and communities. In total, Pi Phi provided 39,413 books through this year's Signature Events.
An educator who received books through a virtual distribution shared, "Some of my students move often and lose what they did have, so getting books into their hands is important to me. Having a variety of topics and levels for them to choose from is so helpful. I am so grateful to organizations supporting schools during some very difficult times."
In addition to the impact made through Fraternity Day of Service, Pi Phis continue to engage with their local communities through other Read > Lead > Achieve initiatives. Thanks to the fundraising efforts and nominations of our chapters and alumnae clubs, our Foundation awarded $80,149 in Local Impact Grants to 33 organizations across North America this fiscal year.
The Wisconsin Alpha Chapter nominated the Madison Reading Project to receive a Local Impact Grant. Sarah Burke, Fundraising Coordinator at the Madison Reading project, said the grant would support the organization's Books & Activity Kits program. "We send monthly kits filled with books and an art or STEM project to our community partners, serving more than 400 children in the area," she reported. 
Grants from our Foundation fully fund all Read > Lead > Achieve programs thanks to the generous support of our donors and fundraising efforts of our chapters and clubs. Through gifts to The Literacy Fund, The Arrow in the Arctic Fund and The Friendship Fund, our Foundation supports initiatives including Champions are Readers, Fraternity Day of Service Signature Events, FDS500 grants and more.

Published September 26, 2022