Heart for Service, Love for Learning
During Read > Lead > Achieve® month in September, Pi Beta Phi takes special time to honor our sisterhood's love for literacy—a love many of us hold close to our hearts.
One Pi Phi holds this love extra close.
When Virginia Zeta Cara Stombock learned of Pi Beta Phi's philanthropic focus, she knew she had found her home. Cara already had a passion for education and learning, but she saw an opportunity to let that passion flourish within Pi Phi.
Cara quickly identified with Pi Phi's core value of Philanthropic Service to Others during her collegiate years. From fundraising and supporting events to engaging with the community, she was determined to make the most of her experience. In the fall of her sophomore year, Cara was elected Vice President Philanthropy, only growing her connections within the chapter and the community.
Through another member, Cara was introduced to Mohamed Mwinyi who was also an undergraduate at their university and the founder of Soma International. Soma is a non-profit that aims to provide people in rural Tanzania with access to higher education—their goal is to empower the women and children in these communities through reading and learning.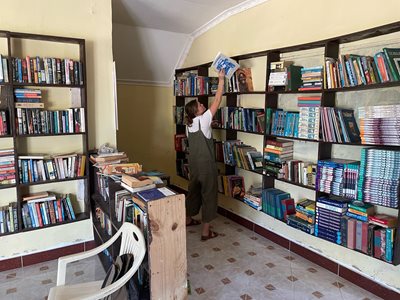 While at the university, Mohamed began collecting children's books to bring back to the Soma library. Cara organized a philanthropy event with her chapter and another organization to aid in the process. She gathered her sisters and friends and together they sorted through 10,000 books in one night for him to take back home.
Cara and Mohamed continued working together, furthering Cara's love for literacy and education. "I thought the world of Mohamed. I appreciated his heart for wanting to go back home and bring literacy with him. I knew I had the power to assist with that," she says.

Cara earned her master's degree in Elementary Education, later becoming a reading teacher. Because of her connection to Mohamed—and heart for service—Cara joined Soma as an Education Coordinator and Board Member in 2020. She recently returned from a three-week trip to Tanzania to visit the community and observe and assist the students at the library.
Cara's pride in the students grew as she saw firsthand how much they had advanced in their literacy education. "The kids who are learning English through the tutoring services are incredible. They're reading full paragraphs about ancient history and answering all the questions in English," she beams.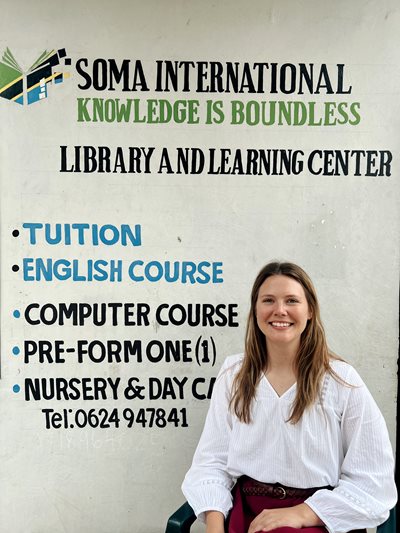 While Soma is making admirable progress, there are still many challenges to face in the literacy education process. "It's extremely hard to find children's books written in Swahili," Cara says, "I began looking up different publishers in Tanzania, and I somehow found one that Mohamed had already connected with; I was able to secure a donation of about 200 books!"
Although Cara can only understand some Swahili, she immediately saw the curiosity and excitement in the community, "that curiosity was really our goal all along," she says. Cara also explains that a belief in reading is not just for educational benefits, but a way to expand our imagination and what we think about ourselves and the world.

As Cara continues her journey, she's been able to recognize how far she's come—both with Soma and our sisterhood. In her reflection, she credits a large portion of her success today to Pi Phi, "I would probably not be a teacher if I had not joined Pi Phi," she says. Even with her initial love for the field, Cara says that her chapter brought out what she always knew was in her.
"It helped me feel confident standing up in front of people; I'm now comfortable sharing my passions and asking for support when I need it. I'm really thankful for who I was able to blossom into because of Pi Phi," she says.
Share how you or your sisters are making a literacy impact by using #ReadLeadAchieve
Published September 14, 2022