Planting the Seeds
Pi Beta Phi's core value of Lifelong Commitment is expressed uniquely by every sister. Whether it be through empowering our leaders, inspiring a love of literacy or ensuring the future of our sisterhood, the commitment of a Pi Phi is like no other. Every November, we recognize the power of one Pi Phi's enduring loyalty to our beloved Fraternity—as well as the donors who have followed her example.
Kansas Alpha Marianne Reid Wild left an extraordinary mark on our sisterhood, both during her lifetime and beyond. Marianne served as Grand President for six years, installed seven chapters and was named Grand President Emerita in 1966. On top of her steadfast loyalty and hard work, Marianne also became the first alumna to make a significant planned gift to our sisterhood, naming Pi Beta Phi Foundation as the primary beneficiary of her estate. This decision would make an immeasurable difference in the lives of Pi Phis for years to come. In honor of her gift, our Foundation established the Marianne Reid Wild Society—a donor society for members who choose to include Pi Beta Phi in their estate plans.
Marianne did not endow this gift without reason, as Pi Phi provided her with a lifelong source of Sincere Friendship—especially when she needed it most. Marianne lost her only son, Leonard, in 1949 and her husband, Robert, in 1974. These tragedies left Marianne with an unimaginable amount of grief, yet she channeled into her passion for serving others. Through her continued commitment to Pi Phi and the endless support of her sisters, Marianne found a way to cope with her incredible losses.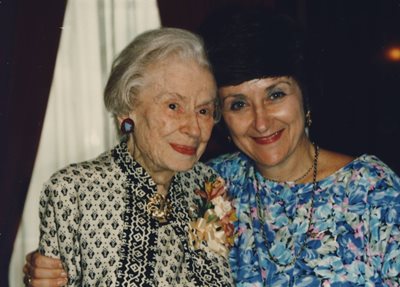 Marianne decided to give back to the many organizations she served, including Pi Phi, exemplifying her appreciation for all they had helped her overcome. Her expression of gratitude would plant seeds for the future of our sisterhood and grow into a legacy of generosity that others aspired to follow.
Photo caption: From left, Past Grand President Marianne Reid Wild, Kansas Alpha, with fellow Past Grand President Sarah Ruth "Sis" Mullis, South Carolina Alpha.
A notable Pi Phi who became a member of the Marianne Reid Wild Society was Kansas Alpha Adrienne Hiscox Mitchell. A contemporary of Marianne, Adrienne was also a past member of Grand Council, Foundation Board of Trustees President and true model of Pi Phi's core values as she was known to be an admirable sister and mentor with a charismatic spirit. Adrienne designated a portion of her estate to our Foundation, resulting in a gift of more than $1 million. While remarkable at the time, little did Adrienne know just how important her gift would become years later.
The largest portion of Adrienne's gift was made to the Friendship Fund, meaning the funds were unrestricted and could be used toward immediate needs. At the time of her decision, Adrienne could not have known the gravity her gift would hold in the future, but it truly blossomed into a lifelong impact. When Adrienne passed away in 2020, our Foundation was experiencing a significant decline in giving, following the onset of the COVID-19 pandemic. But because of her generosity years before, Adrienne's gift would help sustain our Foundation during a critical time and provide continued support to our sisters.
Both Marianne and Adrienne understood their commitment to Pi Beta Phi was lifelong, and although they could not witness the impact they made, we will forever be grateful for their profound support. All gifts to our Foundation truly make a difference, and we extend our heartfelt gratitude to those who follow in these women's footsteps and ensure a bright future for our sisterhood. To learn more about making a planned gift to our Foundation, please visit the Pi Phi website or contact a member of our Foundation staff.
Summary image: From left, Past Grand Council member Evelyn Peters Kyle, Illinois Alpha, Past Grand President Dorothy Weaver Morgan, Nebraska Beta, Past Grand President Marianne Reid Wild, Kansas Alpha and Past Grand Council member Edythe Mulveyhill Brack, Kansas Alpha.
Published November 27, 2022