2022 Alumnae Excellence Award Winners
Every year, Pi Beta Phi recognizes clubs, chapters and individual members for their excellence in various aspects of Pi Phi life. Alumnae Club Excellence Awards honor clubs which exhibit our core values in everything they do—whether it be through service, commitment or friendship—and inspire us all. Congratulations to our 2022 Alumnae Club Excellence Award Winners!
Excellence in Alumnae Engagement
Small: Columbia, South Carolina, Alumnae Club
The Columbia, South Carolina, Alumnae Club developed several strategies to encourage alumnae involvement such as offering events to fit various interests and schedules, community philanthropic opportunities, engaging with the South Carolina Alpha Chapter and garnering feedback from a membership survey. Through this approach, the Columbia club increased their membership, renewed beloved club traditions, built relationships with collegians and left an impact on their community.
Large: San Jose, California, Alumnae Club
The San Jose Alumnae Club prioritizes member engagement through personalized outreach, engaging events and enriching social media communication. To continue welcoming new members, the San Jose club invited hundreds of Pi Phis in the area to join their 2023 kick-off event. Members attending an event for the first time were given personalized handwritten notes to encourage their involvement. The club also offers a variety of events to meet the diverse needs of their members, as well as virtual events to reach those unable to attend in person.

Excellence in Fun & Friendship
Small: Glen Ellyn-Wheaton Alumnae Club

For the Glen Ellyn-Wheaton Alumnae Club, fun and friendship are a priority, especially when planning programming and events to ensure every member's interests and passions are catered to. Some of the club's programming themes revolved around creativity, history and service. The club also has two interest groups—Book Babes, a monthly gathering for readers, and Angel Corps, a group of sisters who provide food, service and care to club members in need.

Large: Phoenix, Arizona, Alumnae Club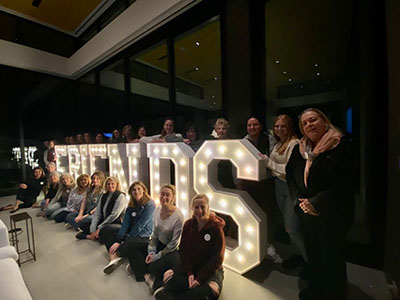 The Phoenix Alumnae Club introduced their 2022-2023 club year as "You Had Me at Halo," which led to various programming and events centered around fun and friendship. The club offers 10 Special Interest Groups which all offer monthly opportunities for engagement catered to demographics and personal interests. Upon joining the Phoenix Alumnae Club, new members are welcomed with a personalized note and an angel ring to show the true bonds these sisters share.
Excellence in Lifelong Commitment
Small: Glen Ellyn-Wheaton, Illinois, Alumnae Club
The Glen-Ellyn Wheaton Alumnae Club's dedication to Lifelong Commitment begins when local collegians become Pi Phis, as each New Member receives a handwritten note and small gift as a gesture of friendship. The alumnae club also makes it a priority to connect collegians and alumnae through events and programming to share what it means to stay committed to Pi Phi after graduation. Once members graduate, they are formally invited to join the alumnae club and continue building lifelong friendships.
Large: Nashville, Tennessee, Alumnae Club
The Nashville Alumnae Club engages members of all ages through focused efforts to connect with the Tennessee Beta Chapter including joint celebrations and grant programs. The club also has a young alumnae group and a 55+ group to support Pi Phis of all ages. All initiatives offered by the Nashville club encourage members to get involved in philanthropy, service and friendship not just now, but throughout their life.

Excellence in Community Service (Non-Literacy)
Small: Lake Oswego-Dunthorpe, Oregon, Alumnae Club
In Summer 2022, the Lake Oswego-Dunthorpe Alumnae Club donated school supplies to the Community Transitional School, a school aimed at supporting youth experiencing homelessness in the local area. Beyond their involvement with the school, several gift baskets were raffled off at a holiday luncheon with proceeds supporting Hunger Fighters Oregon, a local food pantry that saw a 184% increase in demand.
Large: San Jose, California, Alumnae Club
Members of the San Jose Alumnae Club kicked off the year by supporting the Family Giving Tree Back-to-School Drive where members donated money and backpacks stuffed with school supplies for students from kindergarten to high school. Some members even volunteered at the warehouse where the donated backpacks were organized for distribution. In addition to the Back-to-School Drive, members also supported the Family Giving Tree Holiday Wish Drive by purchasing wish list items for community members.

Excellence in Literacy Initiatives
Small: Glen Ellyn-Wheaton, Illinois, Alumnae Club
Throughout the year, the Glen Ellyn-Wheaton Alumnae Club was passionate about their support of the People's Resource Center Share the Spirit campaign, which helped provide communities in need with books and school supplies. The alumnae club also focused their efforts on Little Free Libraries, book fairs at local elementary schools and the Literacy Fund at Pi Beta Phi Foundation.
Large: Bloomfield Hills, Michigan, Alumnae Club
For the seventh consecutive year, the Bloomfield Hills Alumnae Club has collected children and young adult books for the Snow Pile event at Children's Hospital in Detroit, which supplies books and toys to children who must spend the holidays in the hospital. The Bloomfield Hills club also supported Michigan Beta's literacy initiatives, donated to the Literacy Fund at Pi Beta Phi Foundation and volunteered within their local community.
All Excellence Award Winners will be recognized during Convention 2023.

Published June 9, 2023