Telling Her Story
As a lover of literacy since she was a child, California Lambda Stacey Akemi Akahoshi knew reading would be a cherished part of her life forever—what she didn't know is that this love would lead her to discovering her true purpose.
While Stacey was volunteering at her local library to help with a fundraising event, she spoke with one of the librarians about her plans after college. "She heard me talk about Pi Phi's Champions Are Readers
®
program and how much I loved inspiring kids to read," Stacey says. "She then looked at me and said, 'I think you should be a librarian.'" Although initially hesitant, Stacey agreed to shadow her—and soon fell in love with the job. Stacey was inspired by how the librarian was able to work with their community in a meaningful way, so she took the next step of getting her master's degree in library and information science.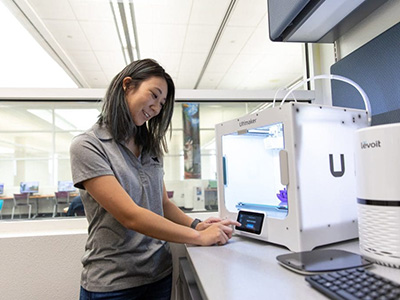 Stacey became an official librarian in January 2019 and jumped right into the role with various tasks and projects. Helping others is what drove Stacey's purpose and still does to this day—she says this is the most rewarding part of her career.
"One of my most unforgettable experiences was with this family who was going through a really rough time; they came into the library every single day," Stacey explains. "One day, one of them came up to me and said goodbye. At first, I thought she was just telling me she would see me tomorrow, but then she hugged me and said, 'Thank you for giving us a place to go, but we're moving because we found a place to live.' I was so happy for them; the most rewarding thing is watching someone grow, even if it means they have to leave."
Throughout her career, Stacey also discovered a strong passion for digital services and began focusing on helping community members learn more about digital literacy. As she explored this path further, Stacey eventually landed at the Maricopa County Library District in Arizona, where she now works as a virtual content manager. In this role, Stacey is responsible for ensuring any information located on the library's website is accessible to anyone. Accessible literacy is something Stacey holds close to her heart, as she herself struggled with reading as a child.
When Stacey was 12, she suffered a traumatic brain injury, resulting in her not being able to read or comprehend literacy for an entire year. As an avid reader, this was devastating for Stacey, and she eventually got taken out of school to focus on her health. "I didn't know what was going to happen," she says. "I had people telling me I would never recover and that I would never go to college. Eventually, I found a great doctor who encouraged me to not give up." Stacey read every single day, until one day, she regained her comprehension.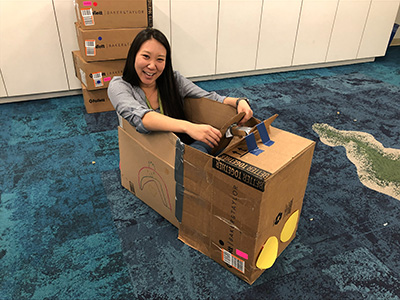 Stacey detailed this experience in her college admissions essay, which is what led her to attending University of California, Riverside—and finding her way to our sisterhood. Stacey instantly felt a connection to Pi Beta Phi, especially after discovering our philanthropic focus. As a collegian, Stacey served as Vice President Philanthropy, which she credits much of her career success to. "Through Pi Phi, I learned how to have hard conversations and inspire others to care," Stacey shares. "I learned how to tell my story." She now serves as the Inclusion Specialist for Collegiate Region Eight.

As someone who understands the challenges and pervasive issue of illiteracy, Stacey's hope for the future is to continue paving the way for accessible literacy. "My whole career is about lifelong learning," Stacey says. "In everything I do, I want to help people grow."

Share how you and your sisters are making a literacy impact this September through our Submit a Story form or by using #ReadLeadAchieve on social media.

Published September 13, 2023