Amy Burnham Onken 2019 Award Winners and Finalists
The Amy Burnham Onken (ABO) Award for Outstanding Scholarship & Campus & Community Leadership
recognizes an initiated member in the senior class who has best lived up to the Pi Beta Phi qualities of excellent scholarship, outstanding campus participation and community service during her collegiate career. Her influence and leadership go far beyond the chapter — reflecting someone who is going to have an impact on society in the future. With 2020 award nominations underway, we are highlighting the 2019 Amy Burnham Onken Award finalists and winners.

Winner: Yifan Mao, Illinois Kappa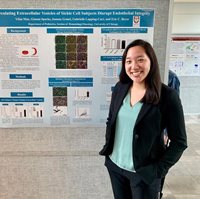 ​Yifan Mao sat on the Dean's List for four years at the University of Chicago where she double majored in biological science and neuroscience. Outside of the classroom, she worked as a Research Assistant in the Department of Pediatric Hematology/Oncology, with multiple paper publications, abstract submissions and poster presentations at conferences across the country. Yifan's academic success earned her many scholarships and awards — most notably, a Fulbright Scholarship for the 2020-2021 year to conduct sickle-cell disease research in Nigeria.
Her leadership extended beyond the classroom onto University of Chicago's campus where she competed on the varsity swim team, served with MEDLIFE (Medicine, Education and Development for Low-Income Families Everywhere) and worked as an editor for PULSE magazine – a publication for University of Chicago students interested in exploring careers in science and medicine. In addition to her involvement on campus, Yifan also worked as a Community Swim School Instructor and served as a mentor for the STRIVE Health Mentoring Program at La Rabida Children's Hospital.



Winner: Tallin Moyer, California Zeta
Tallin Moyer graduated in 2020 with a double major in philosophy and sociology from the University of California, Santa Barbara (UCSB) Honors Program. During her time at UCSB, she served as a Violence Intervention and Prevention Intern at Campus Advocacy, Resources, and Education services. In this role, she learned from experts on survivors of interpersonal violence, assault and domestic abuse. At the end of the internship, she helped create a bystander intervention and prevention campaign that focused on educating first-year students on how they can be an active bystander. The campaign reached more than 10,000 students.
In addition to her work with Campus Advocacy, Resources and Education services, Tallin also served as a host for UCSB town halls where community members shared how administration could improve the resources provided to survivors of sexual assault and sexual harassment. She helped create a school-wide survey to hear student voices and make change at the administrative level.



Finalist: Siobhan Carroll, Alberta Alpha
Siobhan Carroll always prioritized her biological sciences studies – which showed when she placed in the 96th percentile for her MCAT. Siobhan's academic success was further proved when she was presented and named as one of the winners of the 2019 Dr. R. E. Peter Biology Conference for her poster presentation. She also demonstrated great leadership in the community by volunteering for the Get Out The Vote Campaign – which encouraged students to express their voice in upcoming elections – and on the University of Alberta's Shinerama – a Canadian fundraising initiative aimed at raising money to cure cystic fibrosis.
Siobhan has acted as a great role model for the Alberta Alpha Chapter by living our core values and proudly representing Pi Beta Phi in all of her activities. It is through her actions and overall cheer that many members have seen what it is to be a true Pi Phi woman of intellect and integrity.



Finalist: Kathryn Hayes, Iowa Beta
Kathryn Hayes graduated with a triple major in international relations, political science and French. During her time at Simpson College, Kathryn spent a semester studying at the Catholic University of the West in Angers, France. She later participated in the Capitol Hill Internship program in Washington D.C. where she interned at the French Embassy. Kathryn's Capstone on Disinformation was chosen as one of 60 undergraduate research projects in the United States to be presented to congressional members.
On campus, Kathryn was a member of the tennis team, Simpson Democrats, Sexual Assault Response Advocates (SARA), Culver Fellows, Study Abroad Committee, Pi Sigma Alpha Political Science Honors Society and Model United Nations. In the community, she served on the Des Moines Committee on Foreign Relations, the Census Committee and worked as a George Washington Carver intern at The World Food Prize.

Celebrate and honor a senior member for their contributions in 2020 by nominating them for a Pi Phi Award. Nominations are now open and will close February 15, 2021. The full list of awards is available here.

Published January 5, 2021