The Importance of Literacy as an Asian-American Bilingual Woman
It wasn't until recently that I realized how special it was to be bilingual. I speak Vietnamese and have a gift that many people spend years trying to learn through a formal education. However, I learned throughout my education that it came at a cost that many would not understand.
My parents immigrated from Vietnam at the age of 16. They met and got married here in America. My sister and I were raised in Vietnamese culture – celebrating Lunar New Years, attending Vietnamese church services, eating Vietnamese dishes made by my parents, and speaking to my parents with their native language. It wasn't until high school that I began to understand what it meant to be Asian American and the impact of being a minority.
English reading, writing and grammar have been one of my largest downfalls throughout my schooling experiences. Reading books and sounding out letters to say a word always came a bit slower to me. This frustrated me since I didn't understand why it had come so easy to my classmates. My parents have been writing and speaking in broken English ever since I was born. However, I did not know how severe it was since I had mentally pieced together these broken English sentences that made sense to me. Vietnamese was my first language and, in another sense, broken English was my second. This made English standardizing testing a
living nightmare
for me. I could not possibly understand how four different sentences that varied in the location of a comma
had only one correct answer.
They all sounded the exact same to me. I would ask my peers for their help on how they knew D was the correct answer. However, I would get the same response: "the other answers sounded wrong." I felt that my classmates took for granted that they could easily spot these issues – almost naturally. They had English speaking parents at home to teach them how to write and proofread their papers. They were practicing their English at school and at home, double the amount of time I was spending.
So, when joining Pi Beta Phi, I understood my impact as a campus leader on our local communities. Learning about Pi Beta Phi's philanthropy, Read > Lead > Achieve
®
I found an organization that wanted to create a more literate and productive society, and I could be an advocate for literacy. I, myself, understood the value of literacy as I struggled with reading English as an Asian-American bilingual woman.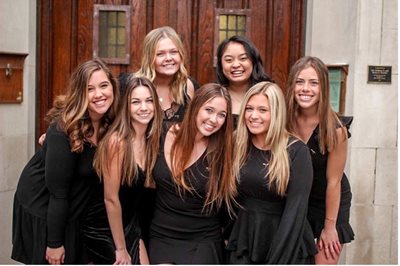 For the past two years, I have been able to serve my chapter as the Director of PR/Marketing and now the Vice President Community Relations. Michigan Gamma has allowed me to highlight and educate other members about the diversity of our membership by creating social media campaigns for first-generation college members and bilingual members. In my roles, I have also built my chapter's relations with Multicultural and National Pan-Hellenic chapters on campus and guided our Director Diversity and Inclusion Lauren Bresky to educate our chapter and community through monthly newsletters such as May's topics of Asian American Pacific Islander (AAPI) Heritage, Jewish American Heritage and Mental Health Awareness.
Being a chapter leader during this time of pain in the Asian community has made it so important to be surrounded with lifelong friendships. I've been able to build my Pi Phi family with my little Olivia Collins and educate my sisters with my experiences as an Asian woman. I am forever grateful for an organization who stands by its sisters and has given me this opportunity to share my story during AAPI Heritage Month.

Published May 13, 2021