Amy Burnham Onken 2020 Award Winner and Finalists 
The Amy Burnham Onken Award for Outstanding Scholarship & Campus & Community Leadership recognizes an initiated member in the senior class who has best lived up to the Pi Beta Phi qualities of excellent scholarship, outstanding campus participation and community service during their collegiate career. Their influence and leadership go far beyond the chapter — reflecting someone who is going to have an impact on society in the future. With 2021 award nominations underway, we are highlighting the 2020 Amy Burnham Onken Award finalists and winner.

Winner: Georgia Kralovich, Ohio Lambda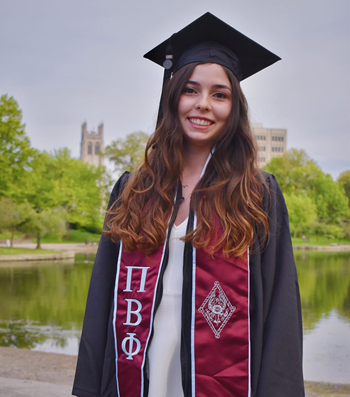 Georgia Kralovich is active in her pursuits of knowledge and experience. In addition to her academic accomplishments, including an extensive course load and several scholarships, Georgia continued to find opportunities outside the classroom. For two summers, she volunteered as an undergraduate research assistant at the University of Michigan, studying inflammatory processes in the lung. During this time, Georgia also co-authored a publication in the Journal of Clinical Investigation Insight on the role that a particular molecule plays in models of bacterial pneumonia.
Throughout her time at Case Western Reserve University, Georgia participated in numerous campus and community activities. She served as Ohio Lambda's Vice President of Event Planning in 2019 and Chapter President in 2020. Despite the remote status throughout her presidency, Georgia continued to push members to remain involved and hold meaningful discussions with one another. In addition to serving Ohio Lambda, Georgia was also involved with Case Western's Center for Civic Engagement and Learning (CCEL), a program which promotes and recognizes meaningful student involvement in the community. She was awarded the title of CCEL Scholar two years in a row by completing a total of 100 civic engagement hours and participating in monthly educational events.
Photo from @piphicwru
Finalist: Shae Giovanni, Illinois Eta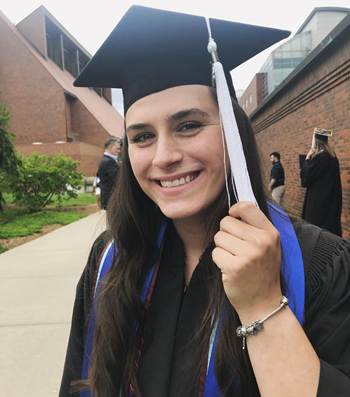 Shae received several awards and recognitions during her time at Millikin University, most notably, The Scovill Award—given to the most well-rounded students displaying outstanding performance in academics, leadership, and service to the campus and community. In addition to this prestigious award, Shae was also inducted into the Alpha Lambda Delta Honors Society. Shae played on the women's soccer team throughout her time at Millikin, receiving Academic All-Conference recognition three years in a row. Her devotion to academics is even more impressive given the time commitment required of a student-athlete.
Shae has been a constant leader within Pi Beta Phi, displaying exemplary servant leadership qualities as a member of the Leadership and Nominating Committee and as Director Leadership. Outside of her chapter involvement, Shae was incredibly involved with athletic training and athletics, earning the Exercise Science & Sport Service Award. Shae led the campus's Athletic Training Club, participated in the Illinois Athletic Trainers' Association as a Student Congress Member, joined the National Athletic Trainers' Association, coached a soccer team in the Decatur community and volunteered for various projects including the Special Olympics and a soccer club for adults with special needs.
Photo from @shaegiovanni7
Finalist: Julia Rogers, Arkansas Alpha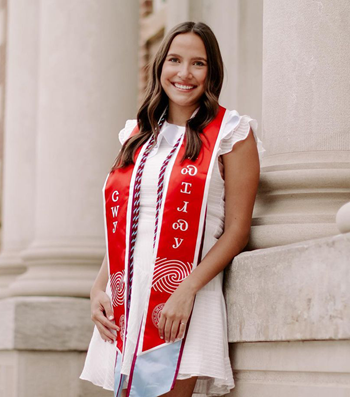 In addition to receiving several scholarships, Julia sat on the Chancellor's and Dean's List throughout her time at the University of Arkansas. She was a dedicated member of the Sam M. Walton College of Business Honors Program and Order of Omega, an honor society for the top 3% of fraternity and sorority life members at the University of Arkansas. In addition to her academic pursuits, Julia served the Arkansas Alpha Chapter as Vice President of Membership in 2019. Julia helped lead Arkansas Alpha to one of their best recruitments yet with more than 1,800 Potential New Members.
Julia was an active member of her campus community, serving as co-president of business honor society Beta Gamma Sigma and the Greek Life Campus Relations Coordinator for the Student Alumni Association. Additionally, Julia served as the Vice President of Homecoming for the Student Alumni Association where she organized community and student involvement opportunities for the University of Arkansas 2019 Homecoming Weekend including the Homecoming pep rally, parade and senior walk. Beyond her commitment to the university, Julia also loves to give back to her hometown of Fayetteville by volunteering with 7 Hills Homeless Shelter, Habitat for Humanity and Central United Methodist Church.
Photo from @julialeighrogers
Celebrate and honor a senior member for their contributions in 2021 by nominating them for a Pi Phi Award. Nominations are now open and will close February 15, 2022. The full list of awards is available

here

.

Published January 4, 2022