Turning Challenges into Opportunities
Throughout the fall term, our chapters organized unique literacy and service ideas to overcome the challenges presented by COVID-19. Traditional events were forced to adapt to the virtual environment and chapters planned new events and activities to support their communities. As we look toward the spring term, we're highlighting five chapters and their innovative approaches to service.
Arkansas Alpha
In order to follow CDC and campus guidelines, Arkansas Alpha transitioned their Pi Phi Pizookie Fundraiser from their traditional in-house event to a drive-thru pick-up. Community members were invited to drive through the chapter's circle drive to order, pay and pick up their cookie dessert. The chapter sold as many cookies this year as they have in years past!

In addition to their Pizookie Fundraiser, Arkansas Alpha partnered with Fayetteville Junior Civic League for a virtual book drive. Through the book drive, they were able to donate 1,140 new books to Potters House Wet Cement, Elizabeth Richardson Center and 99 Balloons.


California Nu
When California Nu realized they would be unable to host their Champions are Readers®(CAR) program with 186th Street Elementary School, they were determined to find another way to connect with the students. They found the perfect opportunity when school staff reached out requesting volunteers to support their socially distanced trick-or-treat event. Chapter members helped to set up and decorate the school, then returned to hand out candy to the students.
In addition to volunteering with 186th Street Elementary School, the chapter also partnered with Good Samaritan — an organization that raises money to bring food, water and masks to the homeless community in Los Angeles County. Through the program, chapter members helped compile lunches and masks to distribute to the homeless population in Venice, California.
California Omicron
As schools, educators and students were faced with the challenges presented by the COVID-19 pandemic, the California Omicron Chapter stepped in to give their support. Chapter members organized their first-ever Virtual Book and School Supplies Drive for Think Together After School Programs.
Indiana Alpha
With the onset of the COVID-19 pandemic, the Indiana Alpha Chapter knew putting a book into the hands of a child in need would be more important than ever before. In honor of Read > Lead > Achieve month, the chapter built and installed a Free Little Library on the Franklin College campus. Chapter and community members worked together to build, paint and install the library on campus, as well as stock the library with books for the Franklin community.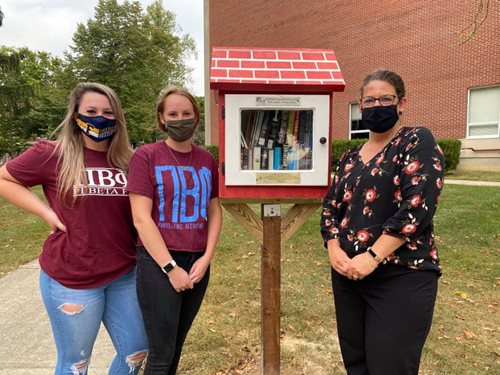 New York Epsi
lon
With conversations of diversity and inclusion happening around the globe, the New York Epsilon Chapter wanted to provide their local schools with books that represented the world around them. The chapter was able to purchase two classroom sets of books for Columbia High School and Rensselaer Jr./Sr. High School. The books purchased were Symptoms of Being Human, a novel on gender fluidity and the LGBTQA community, and Kira-Kira, a novel about a Japanese American family living in Georgia. The two novels were chosen to shed light on a more atypical narrative and provide students with stories to expand their horizons.

How is your chapter or alumnae club serving your community through service? Share your story at pibetaphi.org/submit.