Reflecting as the Outgoing Vice President of Member Experience
As my term officially came to an end last night, I want to reflect on the last year serving on Texas Epsilon's Executive Council as their Vice President of Member Experience (VPME).
In 2019, Pi Beta Phi voted to restructure how our leadership team is organized. This meant brand new positions that nobody had ever held before. As nerve-wracking as it was, I applied, interviewed and was elected to pioneer one of these new positions.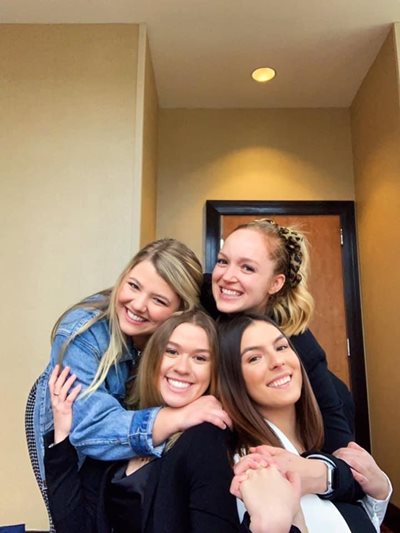 The VPME is in charge of a lot. Like A LOT. I led four directors, those being New Member Experience, Lifelong Commitment (AKA our seniors), Fraternity Heritage and Academics. Along with supporting them and helping them plan and make decisions, I was in charge of planning sisterhood events, running a committee to boost chapter morale and just making sure every member was having a great time being a Pi Phi.
And then COVID-19 hit.
Things were like we never imagined they would be. Zoom meetings for EVERYTHING. Chapter meetings, sisterhood events, Executive Council meetings, formal, recruitment, Initiation and everything in between. It was difficult to navigate, but the 2020 Executive Council somehow did it. And we were successful.
In the course of this insane year, we were able to:
Retain a high percentage of membership
Recruit 29 amazing women
Have one of the most successful sisterhood events the chapter has seen
Initiate those amazing 29 women
Achieve our highest chapter GPA in years
Send off four seniors into alumna life
Elect and install a new Executive Council that will be sure to KILL IT in 2021
I'm sad to be stepping down from my leadership role and go back to just being a general member, but I'm so proud of the growth I've seen in my chapter since being initiated in 2017. As a senior graduating in May, I look at the women in my sisterhood and my heart could burst with pride, love and the feeling of leaving a legacy.
I can never express how thankful I am that my chapter elected me to be one of their leaders. It helped me grow in areas of patience, forgiveness, work ethic and so much more.
To Texas Epsilon: I love you more than words can describe. You make me proud to call myself a Pi Beta Phi, and I can't wait to see how far you will fly.

Published December 17, 2020