From Ohio Beta to Capitol Hill
Growing up in the swing state of Ohio, Ohio Beta Abby Camp Wenk was always surrounded by politics and people working for causes they supported. She held undergraduate internships with both presidential and Ohio gubernatorial campaigns, but even then, she didn't seriously consider politics as a career path — until she represented Pi Beta Phi on the annual Fraternal Government Relations Coalition trip to Capitol Hill.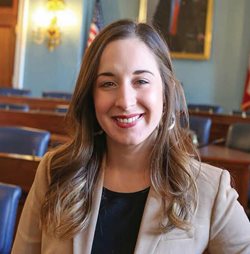 "This trip introduced me to congressional and fraternity/sorority leaders who are working every day to better the country and their respective organizations," Abby recalled. "It was through this that my eyes were opened to what I was meant to do." Six years into her political career, she often recalls this as the defining moment that formed her career path — one that would not have happened without Pi Beta Phi.
Pi Phi immediately caught Abby's interest in college because of the six core values and how well the women embodied them. Her Ohio Beta sisters helped her grow those same values, and her peers and advisors, along with student leadership roles, taught her the skills necessary to thrive after university.
"College years are a time of rapid growth and change for young people," she said. "While trying to navigate these changes and new experiences, it is so important to have a foundation to rely upon as well as a group to push you to grow; Ohio Beta was this for me." After her Ohio State years, Abby had a great alumnae network full of friends and shared sisterhood. It was that network that helped her find her first full-time job on Capitol Hill, and she remains connected to many sisters in the D.C. area.
Abby works in the House of Representatives as the Director of Coalitions and Operations for the Republican Transportation and Infrastructure Committee (T&I). Her role is to build and maintain relationships with industry stakeholders, keeping them updated on committee activity and legislation. She also helps coalesce support for a bill when her boss has a legislative priority. "Sounds a lot like the relationship building that you learn from Pi Beta Phi, doesn't it?"
On the staff and operations side, Abby and her colleagues work for a ranking member or chairperson and support their fellow party members on the committee. "Committees are where legislation is written and debated, so it is an exhilarating and rewarding job to hold on Capitol Hill. If you've heard anything about the infrastructure bill that's been debated over the past two years, that is happening at T&I."
Before her career in Washington, D.C., Abby was honored to serve as a Leadership Development Consultant (LDC) for Pi Phi. She knew before the end of her junior year that she wasn't ready for her time with the sisterhood to end, so she applied for the coveted position, meeting many impressive student leaders and alumnae between then and her hiring. She spent that year of service living out of a suitcase, traveling across the U.S. and parts of Canada to visit chapters and women from all walks of life; she even helped establish the California Omicron Chapter at Chapman University in Orange, California.
"One of the most rewarding aspects of this experience is knowing that that chapter will impact women for hopefully decades and centuries to come," Abby said of that accomplishment. "On a personal note, I made some of my greatest friends during my LDC year, ones that I know will be in my life forever. I wouldn't be where I am today without this organization and the women who helped shape me."
Are you interested in lobbying on Capitol Hill?




Learn more and apply

by January 26, 2022.
Published in the Ohio Beta Summer 2021 Chapter Newsletter