Fulfilling my Lifelong Commitment to Pi Beta Phi
As I recited the special words of our Ritual on December 3, 2016, I committed myself to Pi Beta Phi. A Lifelong Commitment I was determined to keep. At the time, those impactful words of Initiation didn't have much meaning, but as a freshman, I was ready to understand the true impact those words could make on my life.

Over my four years, my love for Pi Beta Phi grew. I was shown how to commit my skills, compassion and empathy to my Colorado Gamma sisters. I was given the privilege to serve my chapter as Vice President of Administration, then Chapter President. Both leadership roles were filled with numerous personal and chapter challenges, but ultimately each challenge made me grow into a stronger, more determined woman. By my senior year, I knew what it meant to be a Pi Beta Phi. I initiated 72 of my favorite women and got the opportunity to explain Pi Beta Phi to them on their Initiation day. They recited our Ritual back to me and committed themselves to the Fraternity for life. This was a moment I will forever cherish.
After graduating from Colorado State University in December of 2019, I was hit with the realization that my time in Pi Phi, as a collegian, was over. Pi Phi was my happy place. I met my best friend in the chapter house, I watched my sister get initiated at Nebraska Gamma, and Pi Phi helped me evolve into the person I am today. I was unsure how to move forward and make a positive impact on the organization, but I knew I was not done committing myself to Pi Beta Phi. I applied to be a Leadership Development Consultant (LDC), hoping for the opportunity to serve the Fraternity on a wider scale. In February, I was offered my dream job of being an LDC. I was given the space to make a difference and now it was my time to seize this once in a lifetime chance.
"I was given the space to make a difference and now it was my time to seize this once in a lifetime chance."
This year has been filled with many uncertainties. Sororities had to redefine the member experience and adapt to a virtual platform, while chapter officers were challenged to lead with little answers. Although this year has been difficult, my love for my sisters and Pi Beta Phi has been unwavering. During my undergrad I thought I understood Pi Beta Phi, but this semester has brought me even more friendships, a deeper definition of Lifelong Commitment and a new understanding of the Fraternity.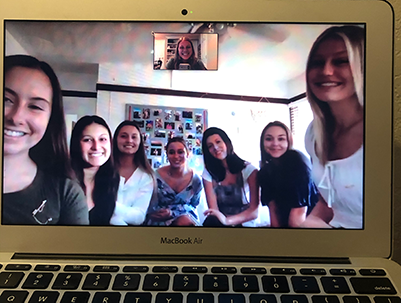 I virtually visited 17 uniquely different chapters this semester. I learned that although each chapter is different, every Pi Beta Phi member shares the same six core values and is experiencing similar challenges this year. I learned that every chapter has special traditions like Georgia Alpha's "Books for Brittany" and California Epsilon's sisterhood recruitment slideshow. Every chapter is adapting those traditions to a virtual platform to stay connected and creating new 2020 traditions like Virginia Iota's Kahoot Trivia Night and Florida Beta's Pi Beta Phit yoga philanthropy event. I learned that Washington Beta's Alumnae Advisory Committee is filled with Washington Beta alumnae who are committed to the success of the chapter and take pride in their chapter history. I learned that the Region 4 volunteers have their own mini sisterhood and invited me into the group with Sincere Friendship. I learned that seven LDCs can build lifelong friendships together while in different states.
Overall, my love for Pi Phi has only grown this semester. I take pride in being able to leave a new legacy on chapters and fulfill my Lifelong Commitment to our organization. My Initiation day was only the start of my Pi Phi experience and who knows what Pi Phi has in store for my future.

Are you interested in becoming a Leadership Development Consultant? The 2021-2022 Leadership Development Consultant Application is now open. Applications are due January 24, 2021. Learn more and apply.

Published December 8, 2020