Supporting Sisters from A Distance 
As a Leader Development Consultant (LDC), you can probably guess that I am a people person. I enjoy spending quality time with new and old friends, and I love meeting new people— this is something I looked forward to when I was offered the position. I dreamed of traveling across the United States and Canada, meeting new Pi Phis from different backgrounds and demographics, and creating relationships with these women. One aspect of being an LDC I was most looking forward to was experiencing each chapter's sisterhood and the ways the women bond with each other and celebrate their chapter. Fortunately, I am still able to do this virtually. Although I am supporting chapters from a distance, trust, friendship, and sisterhood have not been lost. If anything, the virtual environment that we, as a Fraternity, are facing today has created meaningful invitation and understanding from the chapters I "visited" this semester.
"Although I am supporting chapters from a distance, trust, friendship, and sisterhood have not been lost."
When I started my first visit as an LDC with Idaho Alpha, I was terrified I would not make a meaningful connection with the women in the chapter, but to my surprise, the women in Idaho Alpha were just as nervous as me! To ease our nerves, the officers and I acknowledged that our circumstances were far from normal and that none of us are professionals at leading and supporting chapters virtually. Acknowledging the reality of our circumstances helped officers to trust me and recognize that, although I was not physically with the chapter, I was still committed to supporting them from a distance. We engaged in more meaningful icebreakers to get to know each other and shared coffee over Zoom during our morning recruitment meetings to try to instill a sense of "normalcy." Attempting to find the normalcy in the world we are living in helped with building trust and rapport with each chapter I visited.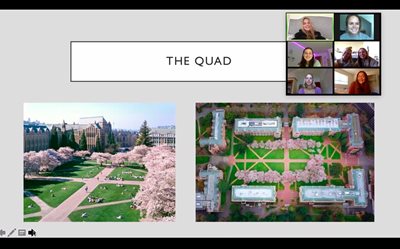 As the semester progressed, I realized many of the chapters I was supporting were committed to providing meaningful sisterhood events for their members and always invited me so I could get a small glimpse into their sisterhood. Washington Alpha New Members gave me a virtual tour of the University of Washington campus. Oregon Gamma hosted a Netflix Party where we watched Parks and Rec together despite being 1,000+ miles apart. In October, I attended a Dad's Weekend Event with Washington Beta where we competed in a Kahoot! Trivia on Washington State University and Pi Phi history. Can you imagine 70+ Pi Phi dads answering Pi Phi trivia on Zoom!? By far my favorite sisterhood experience as an LDC was with Alberta Alpha. Having only been to Canada once, their Chapter President Heather Daniel and members in the chapter made me a playlist of their favorite and most popular Canadian songs in addition to taking me on a virtual tour of Edmonton, Alberta. I was able to "visit" the biggest shopping mall in North America!
Despite chapters operating virtually, sisterhood is evident, and it is strong. It is holding chapters together to get through challenging times, and it has allowed for me, a virtual LDC, to feel connected to chapter officers, Headquarters staff members and my fellow LDCs.
Are you interested in building relationships with Pi Phis across North America? The 2021-2022 Leadership Development Consultant Application is now open. Applications are due January 24, 2021.

Learn more and apply

.

Published December 15, 2020