Resiliency, Flexibility and Appreciation  
Looking back on 2020, life has progressed in a way no one could have predicted. New challenges were presented that required emergent and drastic changes to our everyday lives. Through all the unexpected, it has been Pi Beta Phi and the Leadership Development Consultant (LDC) program that have kept me grounded. Being an LDC has introduced me to so many opportunities that have fostered growth within myself. Personal and Intellectual Growth has always been one of my favorite Pi Phi core values. The way we progress through new situations and the characteristics we acquire along the way has always fascinated me. In my time thus far as an LDC, my personal skillset has developed deeper in the areas of resiliency, flexibility and appreciation.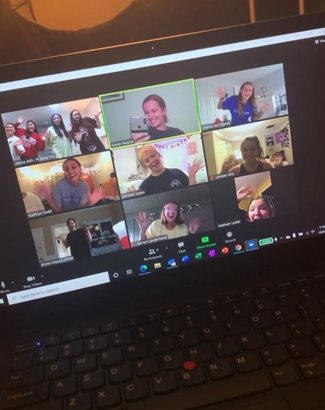 Resiliency has been utilized a lot to explain this past year. "Normal" chapter operations have been halted and every member has needed to adapt. Seeing a new wave of motivation, despite these difficulties has been inspiring. Collegiate women are not accepting defeat in terms of their membership in Pi Beta Phi, but instead are completely re-writing their course. With each virtual visit, I am amazed at what chapters are accomplishing, whether it be new virtual philanthropy events, engaging Zoom sisterhoods or reimagining recruitment. Executive Councils, alumnae volunteers and chapter members are coming together to achieve incredible things. As an LDC, I strive to teach, motivate and inspire collegians, but in terms of resiliency and determination, I have learned from them what it means to do this successfully.

Flexibility is a skill that is essential as an LDC. With collegians creating our schedules for the visits, we find that each day is different. No two Pi Phi chapters are the same, therefore no two visits are the same. One day I could be visiting a chapter for primary recruitment and assisting the Recruitment Team to prepare for Membership Selection. The next day I jump to a routine visit with a chapter where I will guide them through goal setting. The unique qualities of each chapter have been one of my favorite parts of this job. Getting to learn what makes each chapter special and having those women share the pride they have reminds me of the love I have for my own chapter. The ability to adapt to each chapter and be the LDC they need has been an invaluable skill to learn.

At times, it's been tempting to reflect on what this year could have been. Back in March, when I first heard the rest of my senior year had been cancelled, I was distraught. The negativity consumed me, and it was hard to think about anything except what I would be missing. However, working as an LDC has taught me to appreciate everything; the memories I have from my collegiate years and the opportunities within these past few months. I am grateful for the LDC program and all that it has brought me: incredible coworkers who want to see me succeed, the chance to work with chapters from hundreds of miles away and a way to give back to Pi Phi — an organization that has already given me so much.

My role as an LDC continues to challenge and surprise me every day. But it is with this newfound resiliency, flexibility and appreciation that I have developed both professionally and personally.
Are you interested in growing and expanding your leadership skills? The 2021-2022 Leadership Development Consultant Application is now open. Applications are due January 24, 2021. Learn more and apply.

Published December 29, 2020