Building Connections through Pi Beta Phi
Pi Phi became an avenue to various leadership opportunities early on in my college experience. I served as Vice President Membership Recruitment on the College Panhellenic Council and Vice President Fraternity Development for Montana Alpha for the 2018 calendar year. These positions had very specific focus areas, requiring a dual-ended leadership experience. Half of my time was focused on reaching Potential New Members to create excitement around recruitment. The other half was devoted to creating the connection to Pi Phi and Montana Alpha through Fraternity heritage, traditions and ceremonies. Ultimately, both focused on the opportunity to join a group of women that will continue to support lifelong endeavors through friendship.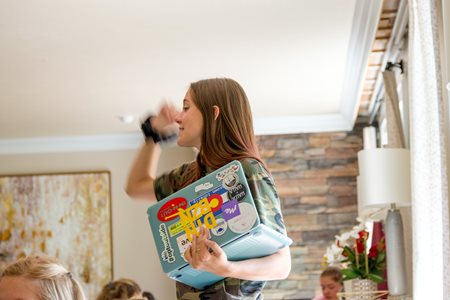 When I accepted those positions, I had no idea they would be so important. These positions were the first step to building the skills I need as a working professional. There was so much to learn stepping into both roles as a sophomore. Each role had time sensitive responsibilities that depended on developing my skills as a young leader quickly and effectively. By the time I graduated, I had experience in delegation, group facilitation, providing professional communication and the list goes on. I was no expert on any of these skills by the end of my term. However, I was able to look at new opportunities that would continue to build on these skills.

One of these opportunities was the chance to serve as a Leadership Development Consultant (LDC) for Pi Beta Phi. The one skill I use every day as an LDC is building meaningful connections. Hopping on the computer and getting to know women on the other side of the country can feel strange, but I am so thankful for the days I spend talking to Potential New Members and women from other chapters about the goals for the Panhellenic Council. I remember sitting on the Centennial Mall at Montana State during Catapalooza to promote sorority recruitment. With over 250 booths at this event, it was so crucial to make a connection on the move. I really wanted to connect with these new Bobcats as peers before pitching them my best recruitment speech.

Connection is the basis of all membership organizations. Those quick connections have allowed me to feel a little less nervous every time I type in my Zoom code. It feels even more comfortable to connect with my own sisters, although those quick connections did not always have a meaningful background. Now, my ability to make meaningful connections along with the love I developed for Fraternity heritage allows me to get much deeper with the women I meet. I find joy in hearing how each Pi Phi chapter honors the ceremonies and traditions we hold closest. These connections are created through so many different formats and always lead back to Pi Phi. From recruitment preparation workshops to Leading with Values presentations, I've been able to meet so many amazing women and support their own leadership experiences along the way.
Are you interested in growing and expanding your leadership skills? The 2021-2022 Leadership Development Consultant Application is now open. Applications are due January 24, 2021. Learn more and apply.

Published January 4, 2021