You Can Be ONE Who Makes a Difference
As the COVID-19 pandemic timeline continues to extend, the long-term effects of school closures and barriers associated with virtual learning threaten to further widen the achievement gap. Ensuring children have access to books and educational resources is a key strategy in helping to bridge this gap — and working toward greater equity in education.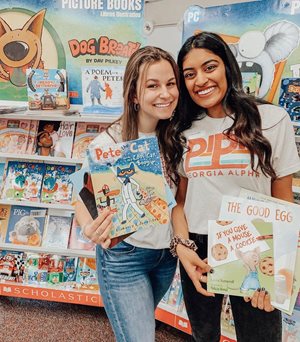 With many of our traditional literacy events on hold this year, we're reimagining the ways we can continue to make an impact in our communities — and we know students and educators need our help now more than ever. That's why Pi Phi and First Book® are teaming up to provide educators with reading materials and resources to support students in need.  
From March 1-31, Pi Phis will identify qualified educators and organizations in their communities and encourage them to register for First Book membership by visiting pibetaphi.org/literacy. In addition to having access to First Book's extensive library of resources, we'll randomly select 200 of the newly registered groups to receive a $250 gift certificate for new books through First Book Marketplace.    
Through one simple act of literacy advocacy, you can be ONE who makes a difference. Bringing new books and resources to students and schools in your community takes just four steps:
Identifying educators
Sharing the registration link
Following up with your contacts
Doing it all again!
All Pi Phis are invited to participate, whether individually or as part of a chapter or club. We've created a literacy toolkit for members with an overview of the initiative, sample content, helpful resources and FAQs to ensure you're ready to get started on March 1.
Remember, the more educators you contact, the more educators are connected to the incredible resources provided by First Book — and the more you can help children in need through the power of reading. 
Thanks to generous donors to The Literacy Fund at Pi Beta Phi Foundation, this initiative and all Read > Lead > Achieve® programs are fully funded by grants from our Foundation. Learn more at pibetaphi.org/foundation.

Published February 15, 2021