Pride in Myself and Pi Beta Phi
The amount of times I have pressed the backspace button on my computer trying to find the "perfect" words to begin this blog is too many to count. Trying to encapsulate my experience as a bisexual woman in Pi Phi has been challenging. It has led me on a journey of self-reflection to a time when I was looking for guidance about who I was and trying to figure out my place in Pi Phi.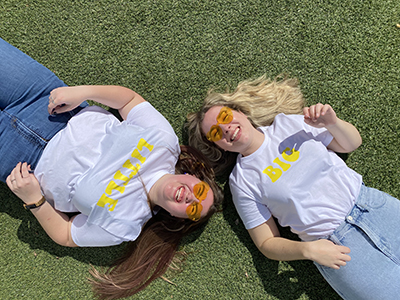 I joined Pi Phi as a freshman during my university's informal recruitment process. I wanted to become more involved on campus and find an amazing group of women to support me. That is exactly what I found in Virginia Iota. The constant love I continue to receive from my sisters is truly unmatched. They push me to try new things, support me through my highs and lows, and most importantly, accept and love me for who I am.
Coming out to my sisters took a lot of courage. Even though I knew they would all be there for me, there was still the "what if" in the back of my head. One of the first sisters I talked to about my sexuality was my big sister, Abby. Abby has been my cheerleader since day one. She's the person I call when I'm having a rough day or need a hug. She also encouraged me to apply for Chapter President, which was something I was unsure of at the time. Abby told me early on in our relationship that she was also queer, so telling her about my sexuality was easier than it had been with others in the past. Although our shared community isn't the primary bond of our friendship, it is a special part of it. Being able to have such an amazing friend and sister to share this part of myself with is so incredible. I wouldn't be where I am today without her mentorship and guidance.
It wasn't until I began serving as Chapter President earlier this year that I felt comfortable sharing my sexuality with a majority of my sisters. Up until this point, only sisters in my Pi Phi family and some close friends knew about my sexuality. However, stepping into this new role, I wanted to be my true, authentic self with all my sisters, just as all of them are with me. They were, and continue to be, so supportive and understanding, just as when I was a New Member. I am so lucky to be leading such an amazing group of women.
The month of June is a special time for members of the LGBTQ+ community. It is a time of reflection on the fight that was and is still ongoing for equality for ALL, just as much as it is a time of celebration of how far we've come. For me, Pride is a time to reflect on how thankful I am to have people who love me unconditionally. Pi Beta Phi has allowed me to become such a strong woman and leader by creating an environment where all members are loved for who they are. I feel so special to be a part of such an incredible organization that has changed my life for the better.

Published June 17, 2021