Pi Phi Pages 2022 Book List
Pi Phi Pages is an interactive, online book club which encourages participants to read a selected book each month, engage in discussion questions and "meet" other Pi Phis. You can choose to enjoy the novels in many ways: buy the book through your local bookstore, read it on your eReader, check it out from the library or listen to the audio book. We hope you'll mark your calendars and join us as we discuss the following books for Pi Phi Pages in 2022.

January
Big Magic: Creative Living Beyond Fear by Elizabeth Gilbert
Elizabeth Gilbert uses her own experience to share the attitudes, approaches and habits we need to live our most creative lives. She offers insight into the nature of inspiration, asks us to embrace our curiosity, shows us how to tackle what we most love and how to face down what we most fear.

Join the discussion.



February
The Gilded Years by Karin Tanabe
Based on the true story of Anita Hemings, The Gilded Years follows Anita as she becomes the first black student to attend Vassar College while passing as a white woman. Anita's world collides with old money traditions when she befriends her roommate Louise "Lottie" Taylor whose relationship with Anita's younger brother could threaten her secret.

Join the discussion.



March
Invisible Women: Exposing Data Bias in a World Designed for Men by Caroline Criado Pérez
Based on studies from the United States, United Kingdom and around the world, Invisible Women investigates gender inequality rooted in data. As a celebrated women's advocate, Caroline Criado Pérez examines how data fails to take gender into account, treating men as the default and women as atypical.



April
The Firekeeper's Daughter by Angeline Boulley
A biracial, unenrolled tribal member, Daunis Fontaine never felt she fit in. After witnessing a shocking murder, she is thrust into the investigation, using her knowledge of chemistry and traditional medicine to track the criminal. As the deaths keep piling up, Daunis must decide how far she'll go to protect her community.

Join the discussion.



May
The Sum of Us: What Racism Costs Everyone and How We Can Prosper Together by Heather McGhee
The Sum of Us follows Heather McGhee as she embarks on a journey across America examining what we lose when we believe progress for some must come at the expense of others. With a special focus on the American economy, Heather notes what we gain when we come together across race to accomplish what we cannot do on our own.

Join the discussion.



June
Cloud Cuckoo Land by Anthony Doerr
Set in Constantinople during the 15th century, in a small town in present-day Idaho and on an interstellar ship decades from now, Cloud Cuckoo Land follows three individuals on the verge of adulthood. Spanning space and time, each of their stories are connected and intertwined by the inspiration and hope received from a story.

Join the discussion.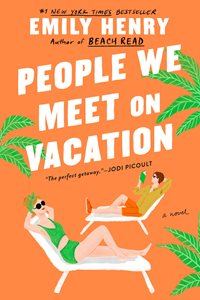 July
People We Meet on Vacation by Emily Henry
Alex and Poppy couldn't be more different. Yet somehow, they've remained the best of friends. Every summer Alex and Poppy vacationed together, until two years ago. Now, they're returning for one final trip to lay everything on the table and finally address the silent truth that troubled their relationship.

Join the discussion.



August
The Dry by Jane Harper
After the death of his childhood friend, Luke, Aaron Falk returns to his small farming community in Australia to face the townsfolk who turned their backs on him twenty years earlier. As questions mount, Aaron is forced to confront a long-buried secret which Luke's death now threatens to bring to the surface.

September
A Most Beautiful Thing: A Memoir by Arshay Cooper
A Most Beautiful Thing is the inspiring true story of Arshay Cooper who grew up on Chicago's West side and became part of the first all-black high school rowing team in the nation. From the streets of Chicago to the halls of the Ivy League, Arshay's experience changed the sport and his life for the better.

Join the discussion.



October
Truly, Devious by Maureen Johnson

Shortly after Albert Ellingham opened Ellingham Academy, his wife and daughter were kidnapped with a riddle signed by Truly Devious as the crime's only clue. Now, Stevie Bell is set to begin her year at Ellingham with a plan to solve the cold case, until death revisits the academy with the return of Truly Devious.

Join the discussion.



November
Crying in H Mart by Michelle Zauner
In this powerful memoir, Michelle Zauner details her experience growing up Korean American and the distance she felt from her heritage once she left home. After her mother's terminal cancer diagnosis, Michelle was forced to reckon with her identity and reclaim the taste, language and history passed on from her mother.




December
Piranesi by Susanna Clarke
Piranesi lives in a house full of rooms, corridors and statues, joined by a man called The Other who visits to learn about A Great and Secret Knowledge. As Piranesi explores the hallways of the house and the ocean within, a terrible truth begins to unravel revealing a world Piranesi has never known.

Join the discussion.
Want to meet other literacy-loving sisters?
Join the Pi Phi Pages

Facebook group

!

Published January 7, 2022