Service and Sisterhood: Volunteering with Pi Beta Phi Foundation
Pi Beta Phi is a sisterhood which depends on the Lifelong Commitment of all members. Each of you plays an integral role in the future of our organization, and your support of Pi Beta Phi and our Foundation is valued and appreciated. While every member contributes to our success in big and small ways, some go above and beyond in their service to our sisterhood by volunteering with the organization. For Foundation volunteers, the opportunities are wide and unique—whether you have an interest in stewardship, scholarship, leadership development or another facet of our Foundation, there is an opportunity available to you.
Hear from a few dedicated volunteers below as they reflect on why they serve, how they got started and what they've gained by giving back to our sisterhood.

Alberta Alpha Krista Searle, Foundation Stewardship Committee member
Krista Searle's involvement with our Foundation came almost by happenstance. "I filled out a volunteer form on the website after randomly sitting next to a Foundation Board of Trustees member at Convention," she says. "I found the opportunity to connect with others beyond the local level very attractive."

With a professional background in banking and degrees in political science and education, Krista says she often relies on this skill set as a Foundation volunteer. "I think my skill set transfers in that I love to chat and meet other sisters and hear about their experiences. I really enjoy supporting others— sisters, chapters and communities—which probably explains why I work for a credit union as opposed to another kind of financial institution," she says. "It's about the people for me, and this really is the best volunteer role I could hold."

Oregon Gamma Kellee Casebeer, Foundation Development Committee member
For Kellee Casebeer, service to our sisterhood extends far and wide. Throughout her time serving the Southlake Area, Texas, Alumnae Club and the Texas Epsilon Chapter, Kellee always made it known that her "Pi Phi dream job" was yet to come— serving on the Emma Harper Turner Fund Committee for our Foundation. "I was fortunate enough to have that dream come true, and it was truly one of the most rewarding volunteer opportunities I've ever experienced," she says. "When my term on the committee was complete, I realized I could not stop volunteering for our Foundation for two reasons—I love what our Foundation does for Pi Phi and I love the staff and other volunteers so much that not having regular interaction with them would create too much of a void in my life. I reached out to the staff and said I wanted to continue volunteering."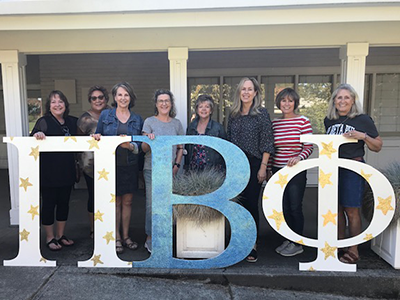 The skills Kellee brings to the table are especially unique. "I am a perfect example of a non-traditional skill set in the Pi Phi volunteer arena," she says. "I am a retired Special Agent for the Federal Bureau of Investigation, with expertise in White Collar Crime Investigations. As an investigator, success comes from observation, asking a lot of questions and finding a balance between common-sense logic and creative thinking. As anyone engaged with the Foundation will tell you, I ask a lot of questions!"

During her time with the Emma Harper Turner Fund Committee, Kellee says that inquisitive, investigative nature helped her realize the opportunity to modify the grant application. The changes to the application have provided clarity not only to applicants, but also provided valuable information to the committee members receiving grant applications, a step toward a more efficient and accessible process for our sisters in the direst need. "That's one of the best parts of Pi Beta Phi," Kellee says. "The diversity in our perspective, experiences and expertise contributes to an excellent end product."

Alabama Beta Jamie Burke, Foundation Stewardship Committee member
Jamie Burke was drawn to serve our Foundation both because of her commitment to our sisterhood and from a sister herself, past Board of Trustees President Kathy Wager Sprague, Alabama Gamma. The two connected while Jamie was a collegian and Kathy served on the Region Four Team. As Jamie's career developed, her skill set was an ideal match for our Foundation. "I work in higher education fundraising, so I found the opportunity to align my personal and professional interests attractive," Jamie says. "I have been granted the opportunity to speak to alumnae across the country and collegians in my own city to thank them for their support of Pi Phi. Relationships are paramount, and helping a donor discover how their 'why' fits with a funding opportunity within the organization is the best part of the job."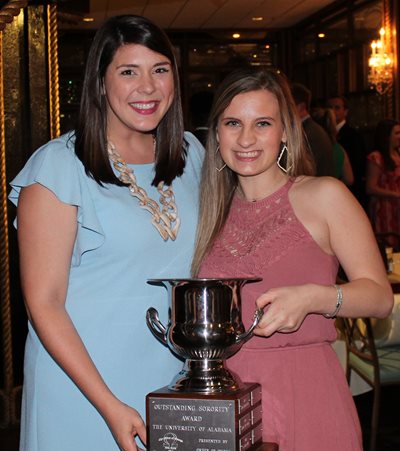 Jamie's own "why" extends to why she gives her time, talent and treasure to support our sisterhood. Her driving force is just that: her sisters. Whether from her chapter or those she's met through service, Jamie says staying involved with Pi Phi means fostering Sincere Friendships and empowering one another to reach their full potential as Pi Phis. "I've seen so many women re-engage with Pi Phi simply because someone asked them," she says. "Speak up when you recognize the talents in others. Reach out and connect them with opportunities to volunteer. There are so many opportunities to stay engaged and volunteer with Pi Phi in ways that fit your interests, skills and time."

Service to our sisterhood is an opportunity for every Pi Phi to live their Lifelong Commitment. No matter your background, you can contribute in meaningful ways to sustaining Pi Beta Phi for generations to come. As the needs of our members and chapters increase, so does the need for passionate, dedicated volunteers to assist Pi Phi in our essential work. For members like Krista, Kellee, Jamie and many more, volunteering with Pi Phi and our Foundation gives members the opportunity to practice and grow their skills, while contributing to our collective success.

You can join this network of more than 2,700 volunteers and contribute to the success of our sisterhood. If you'd like to expand your service, we would love to count you among our number of dedicated volunteers. Our Foundation is especially interested in hearing from sisters with backgrounds in development and fundraising, nonprofit management, finance and marketing. Learn more and share your interest at pibetaphi.org/volunteer.