Recognizing Women's Equality Day
After decades of activism, the Nineteenth Amendment was ratified on August 26, 1920, and since 1973 the U.S. has celebrated this day as Women's Equality Day. The passage of the amendment allowed many women the right to vote and was a major milestone on the road to equality and equitable treatment for women in the U.S.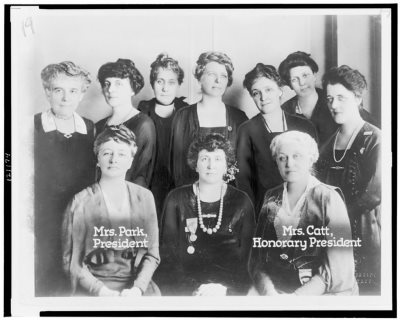 Iowa Gamma Carrie Chapman Catt, a noted women's suffragist, was a key proponent in the passage of the amendment. She worked alongside leaders like Susan B. Anthony and Elizabeth Cady Stanton and founded the
League of Women Voters
, a nonpartisan organization that continues to empower and inform voters.
While their work was a gateway toward women's equality, the fight for women's suffrage continued for many years after the Nineteenth Amendment was passed. Because of intentional barriers such as poll taxes, literacy tests and campaigns of violence that targeted voters of color—especially in southern states—it took another 45 years and the passage of the Voting Rights Act in 1965 for Black, Indigenous, Hispanic and women of other racial/ethnic backgrounds to receive near equal voting rights.
While we celebrate and show gratitude for the immense work these women did to ratify the Nineteenth Amendment, it is important to also acknowledge the lack of equity and inclusion within the women's suffrage movement. Marginalized women had been involved with the suffrage movement since its inception but were often excluded from the efforts of many white suffragists.
Women's Equality Day gives us the opportunity to celebrate and honor
all
women who fought for the rights we have today.
As Pi Phis, we all come from unique backgrounds, but we are all sisters—and we are committed to supporting one another. In recognition, take a moment today to appreciate and honor the women who came before us, the women surrounding us and the women who will come after us. Seek out ways to celebrate on your campus or in your community and find more information and resources from the
National Women's History Alliance
.

Photo source: (1920) Board of Directors National League of Women Voters--Chicago Convention, February., 1920. [Photograph] Retrieved from the Library of Congress, https://www.loc.gov/item/98511969/.

Published August 26, 2022