Trust There is a Path for You
Content warning: fertility and pregnancy

The pathway to parenthood is one many endeavor on, but each journey is unique. Whether and how you seek to grow your family is a deeply personal, intimate process. For some, it is relatively uncomplicated and filled with hope and excitement. For many others, it means coping with infertility, medical interventions, loss and heartbreak. As sisters, showing up is an essential step. Each of us can play a role in destigmatizing these conversations and breaking down walls to offer necessary comfort and care. If you are experiencing infertility, know that as you walk this pathway, you don't walk alone.
My pathway to parenthood was similar to what many people experience, but it isn't something I feel we talk about enough. In the years since I had my now-teenaged children, I have seen us making progress toward getting more comfortable sharing our experiences which I'm glad to see since so many more people deal with infertility and other challenges than we realize. When I was first dealing with infertility, it felt like a personal failure. I remember thinking, "I worked hard in school, in my career, and in everything I've reached for in life. When I work hard, I accomplish my goals. So, why is this so different?"
My husband and I waited five years after getting married to start trying to conceive, and I was shocked to learn and be told that as a woman in my mid-30s I was already on the older end of the spectrum. As we tried to conceive, I was able to get pregnant, but we lost our first pregnancy in the first trimester. That loss rocked me to the point where I almost completely lost hope. I'd felt so connected to our child, not only for the excitement of what we'd created but also for the future we'd begun to imagine. A loss isn't only in the immediate hope; it's also a loss of the imagined hopes for a life with your child.
When we were ready to try again, we started seeing an endocrinologist which led to a few different courses of treatment, including a surgical procedure. My second pregnancy—now my 17-year-old son—was also rocky, and at 14 weeks I started experiencing symptoms similar to the miscarriage. Luckily, he was okay, but I did end up on bed rest for the remainder of my second trimester and took things very easy during the third. The struggles didn't stop after I gave birth, when we ended up in the perinatal intensive care unit; once again, I was on this rollercoaster of emotions of welcoming my child into the world while balancing the fears for his health. We were lucky once again and he's been healthy ever since, but that experience just added to the trauma I'd coped with throughout my fertility journey.
When we were ready to try to conceive again, I once again heard news that sent me on another emotional rollercoaster. After a year of trying, I was told, "The odds of you having another child are slim to none." We knew we wanted a sibling for our son, so now we needed to open our options and find another way. We started looking into private adoption in Arizona and also explored options for international adoption. The amount of research, preparation and education needed is a huge undertaking, and we ultimately processed a dossier with China which took about nine months to complete. Our ultimate goal was to grow our family and we threw ourselves into that process to make it happen.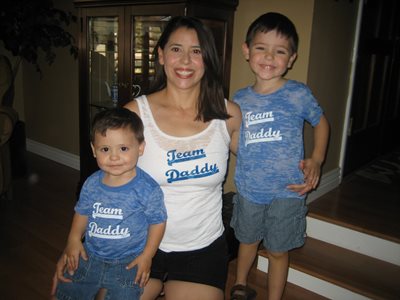 As all this was happening, another unexpected turn arrived. I became pregnant pretty spontaneously. When I saw my fertility specialist again, they said it was a "statistical miracle" and it really did feel miraculous. The pregnancy itself didn't come without its own set of challenges and heart wrenching moments. At 15 weeks, we had another set of complications, this time with irregular blood work indicating my son might have a medical complication, but we wouldn't know more until further testing could be done at 20 weeks. In the ensuing time, I prayed every day for a healthy baby, for all the hopes and the future we had in mind for this child to come true. I was determined to have this baby regardless of any outcomes and I was ready to face any future medical challenges with our child, if that was our fate. With the 20-week ultrasound, it turned out the results were inaccurate, and my son was healthy. And he's still healthy 14 years later, thankfully. I learned from that experience that you must follow your heart and trust that all will work out as it may, regardless of the news and outcome, have faith in your own personal way.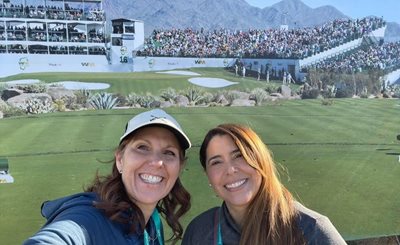 Through everything I experienced, my biggest lesson was that you have to be in control of your own medical journey and advocate for yourself. Between my kids, I changed endocrinologists and ended up with exactly the right people around me to support my decisions and empower me through whatever I faced. One of the biggest support systems throughout this time was a fertility support group, Resolve. Amid my fertility struggles, I knew I needed support and went online to find these resources and the organization knowing it would help me feel less alone on this journey. Finding this group of people who were facing similar experiences helped me quiet the feelings of isolation while also empowering me to use my voice to advocate for my needs. I even found a fellow Pi Phi sister, Dianelle Meis Amin, who was also in Resolve; after years of knowing one another, we found that we could not only support one another through our fertility journeys, but through a deeper connection as sisters.
I know other women are facing similar struggles, and I want you all to know you aren't alone. It's an unfortunate sisterhood of women that you don't strive to belong to but you do and how you get through this journey is important—your story is important! Even with teenagers today, when I hear someone talking about fertility, I immediately feel those emotions rush back and can resonate with their struggles. Every feeling you're having, I've had them all; so many of us have, but we don't often talk about it. I hope this is a starting point for a lot more vulnerable and honest conversations, so the next generation of women know they have sisters who extend our support. Please know, you are valid in wanting the family you want. Keep taking the next step forward, because if I could tell myself anything, it would be that there's a path for you, even if you can't see it.
Hear from five Pi Phis as they share their experiences along the pathway to parenthood in the summer issue of The Arrow.

Published August 30, 2022