We Heal: Recognizing Patriot Day
In 2002, Pi Beta Phi commemorated the lives lost on September 11, 2001, by having our members share their stories of remembrance and grief in the Spring 2002 issue of
The Arrow
titled "We Heal." Now known as Patriot Day, September 11 is a day to pause, reflect and remember all victims of the attacks. As a sisterhood, we're committed to supporting and listening to one another—we felt our members deserved a voice then just as much as we do now. To honor Patriot Day 2022, we're revisiting the words from our sisters in 2002 and sharing them again here today—more than 20 years later.
sensitivity
Suzanne Goodrich Greene, Texas Beta
I am a teacher at Spring Branch Middle School in Houston, Texas and a member of Pi Phi. l would like share with you what my students painted in response to September 11. Hanging in both art classrooms at school is a poster of Picasso's "Guernica." The 1937 bombing of the Basque town of Guernica in Spain moved Picasso to paint one of the world's great art treasures and one of the most shocking documents of the horrors of war. lt was this poster that brought one of our art stu­dents to ask, ''Can we do something like this in honor of September 11?" So, inspired by "Guernica," the students spoke with their thoughts, feelings, hopes and dreams and spent two months working on their response to our nation's tragedy.
After more than 200 individual paintings were finished, David Butler, another art instructor, and I, chose more than 20 images to be ''collaged" into a "Picasso-like" composition. Shades of black, white and gray house paint, brushes and canvas were donated from a nearby business. Beginning October 11, 44 art students in teams of 8-12 met before and after school to work on the mural on a front hallway floor.
During the course of four weeks, colors light­ened and grew dark, Iines appeared and disappeared, images morphed, merged and transformed into a unique language of art. One month later, we were fin­ished.
We call our painting "The Eleventh Day."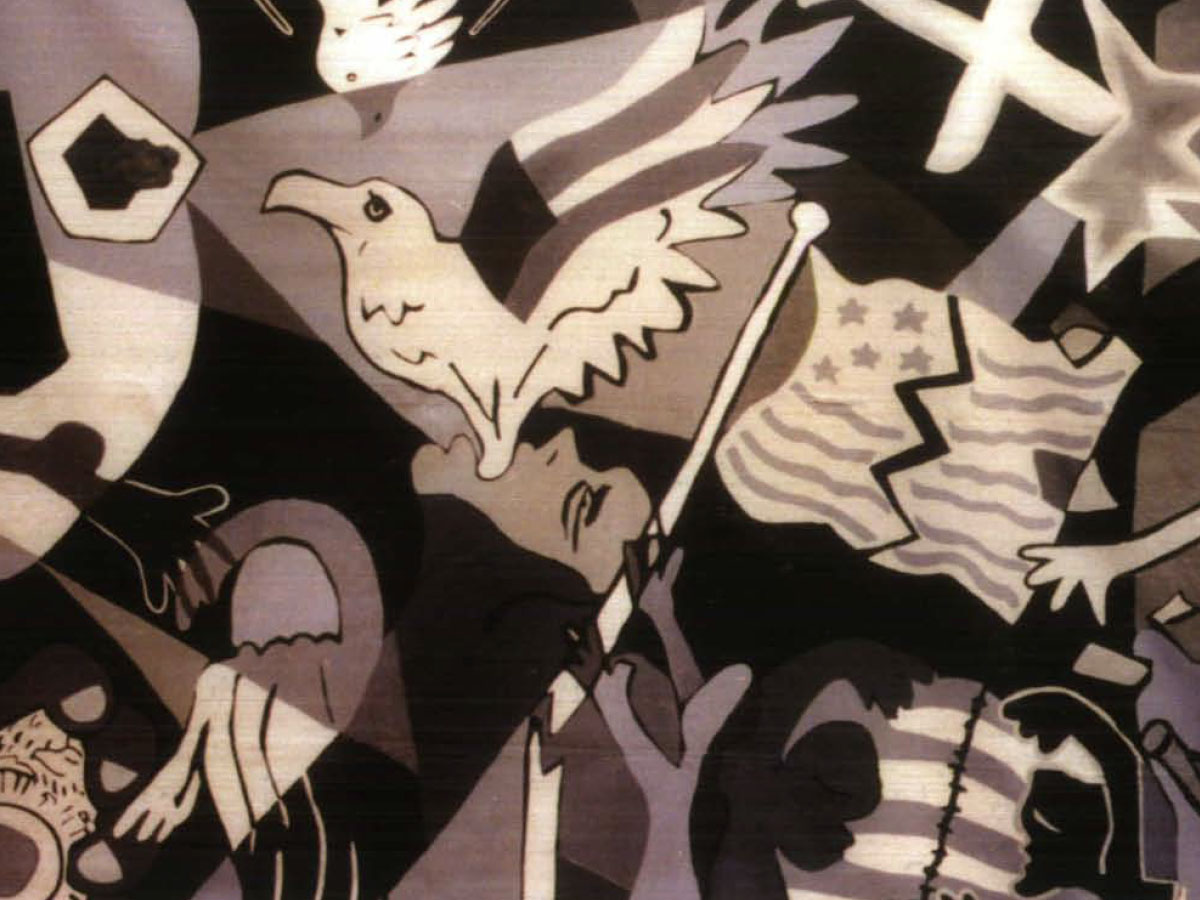 perseverance
Elizabeth Bielawski Laskowski, lndiana Gamma
I read with interest your article in
The
Arrow
regarding the horrible tragedies which beset our nation on September 11. At this time of year, when we otherwise would all be caught up in the materialism of the holidays, it seems that most of the civilized world is taking a step back. There are fewer holiday lights and fewer shoppers in the malls. Families are at home together. In my own home, I am preparing to celebrate Christmas alone with my five children ages 13, 12, 10, 6 and 4. My husband, Daniel, a U.S. Air Force reservist was called to 365 days of active military duty several weeks ago. The days are long, and the challenges are many. It is truly the unity of spirit learned in Pi Beta Phi that keeps me going through some of the most difficult days of my life. While peace on earth may not be attainable this Christmas, goodwill toward men should otherwise be our wish.
wisdom
Jamie Butcher, Alabama Beta
"How are y'all doin' up there?" So far, that is the closest that I have gotten to the tragedy. One sen­tence. One loaded question with heavy answers.
I talk to Chris C. in our New York office a lot because I am new and he is the pivotal software guru. Okay, so I probablr bug him a little ... well, maybe a lot. But I ask him. "How are y'all doin' up there?" (And he speaks Southern, so he understands me.) And he lets me in as much as he can as to what the feeling is, what the mood is like, how the trains are empty, the smells, all the things that we can't feel on TV. And from what I gather, as surreal as it all seems here, there is a similar feeling up there.
It is such a helpless feeling here, and there are worries, because Atlanta is the biggest city in the South. So when I ask, "How are y'all doin' up there?" I mean...I am so sorry for your pain, for our pain. I am so worried about you, even if I don't know you that well. I feel so helpless. Is there anything I can do? What can I do to help in any way? Please, please let me know!
I have a friend from Alabama who worked on the 51st floor of Tower One. He and his co-workers are all okay and all made it out physically unharmed. When I talk to him, I want to tell him how worried I am and how much I care for him and how scared I really am...and how secretly I want him to come home. And to please tell me that he is okay, because if he is up there, and he is okay, then I have to be okay! But all that comes out of my mouth is, "How are y'all doin' up there?" And he says, "Fine, it's going to be alright!"
My brother got on a plane today to go to Washington D.C. for a high school leadership conference. It is really a tremendous honor to be selected to go on this trip. The emotions of my baby brother getting on a plane and actually going to the places we've seen on TV in the vivid pictures are overwhelming. This horrible feeling of helplessness, of having no control over anything, while he's in the air and in our nation's Capital, is difficult to bear. Watching my mother, being torn between letting him go on this trip to have an experience of a lifetime...or make him give it up...tears at me. I know the government is telling us to go about our business and fly again. But put yourself in my mother's place as she asks, "What if they're wrong? What if something happens, and I've put my only son on that plane...and I lose him?"
That's when I turn to God and say, "How are y'all doin' up there?"
humility
Alaina Vasta Walton, Pennslyvania Eta
Many people in my small New Jersey community drive or take the train into New York for work everday. As the pastor of my town's Presbyterian Church, I knew that the destruction of the World Trade Center would bring many people to the churches in town to wait for news and to comfort each other. Being the youngest, newest and only female pastor in town, I was honored when another pastor asked me to help him organize a community prayer service on the evening of September 11. I still don't know how we did it, but in a few hours we had met with five area pastors, arranged for the service to be held in the high school auditorium and planned out the service. Over 800 people arrived that night—hundreds more than we actually expected. The bonding that we all shared that night can still be felt in town today. I feel so blessed that, in some small way, I could help people suffering in this tragedy.

generosity
Emily Wolkoff, New York Alpha
I was reading the article on the Pi Phi website about how Pi Phis have helped out after the September 11 tragedy. It said to email if we had any other stories, so here I am. My name is Emily and I am a sister in the New York Alpha chapter. Over Thanksgiving vacation, my father and I got a chance to volunteer. We volunteered from 4 p.m. to midnight at Ground Zero serving food and drinks to the workers. Even though I only handed out meals, I am glad that I was able to help. I wish that my entire chapter could have gone down to help.
optimism
Dawn R. Allen, Pennslyvania Theta
The tragic events of September 11 have touched the hearts and souls of people all around the globe. Growing up in northern New Jersey as the daugther of a volunteer firefighter, this tragedy has affected me on many levels. While I have not experienced the loss of family and friends as the result of this tragedy, I have been struggling with how I can help my fellow Americans during this time. Since September 11, Nino's Italian restaurant (located a few blocks away from Ground Zero) has been providing warm meals to the World Trade Center rescue workers 24 hours day, seven days a week. All of this due largely in part to the generosity of donations and volunteer support.
On Thanksgiving, while most Americans were home with their family and friends, there heroic men and women were still at Ground Zero continuing the massive effort of recovery, removal and healing. The only thing that seemed like the right thing to do on this day of giving thanks was to show these heroes my thanks and appeciation for all their dedication and effort. My sister and I spent that Thanksgiving evening preparing and serving food a few blocks away from the site where the Twin Towers used to stand. The most moving part of the evening was the way in which each and every member of the NYPD, NYFD, Army, Sanitation (and surrounding law enforcement agencies) reinforced the notion that even among one of the darkest periods in human existence, the ideals of compassion, caring and hope can still flourish. Each and every one of them were angels in disguise. That night I was reminded of how thankful I was to be an American and that the power of love, unity and hope will always overcome the darkness of hate.

gratitude
Suzanne Shorum Beye, California Iota
I am a Pi Phi from California State University, Chico along with my twin sister. Our older sister, Paula Shorum, is also a Pi Phi from the University of California, Berkeley. I am married and live in Tahoe City, California. I just picked up the mail in town and received
The Arrow.
I am writing to you in response to the September 11, 2001 attacks and how they have directly affected all of us. Paula worked in Tower Two of the World Trade Center. She was one of the lucky ones of 25,000 who escaped and is alive. How lucky my family is. My thoughts and prayers go out to all of those people who lost loved ones on that horrible day in our lives. It hit very close to our family. I just wanted to share a Pi Phi story that thankfully ended well on September 11, 2001.

compassion
Elizabeth Wood Mahaney, Pennslyvania Zeta
I recently received my Arrow and saw the request to contact you if a Pi Phi had been affected by the September 11 tragedy or participated in the relief efforts. My husband and I are members of the New York City Police Department—I am a detective sergeant and my husband is a captain. During the past three months, we have seen things that I hope my son or any other human being will never have to witness again. At work, we now understand what Pearl Harbor must have been like. But one thing we will always be grateful for is the continious outpouring and support from people across the country and around the world who continue to help us in this tragic time. Thank you all again.

patriotism
Nicole Felini, Virginia Eta
I joined the United States Air Force in 1994 as an intelligence officer. After six wonderful and exciting years, I decided to pursue a civilian career and become a consultant in Washington D.C. My new career involved numerous trips to various federal buildings including the Pentagon. On September 11, I was scheduled to work in the Pentagon, but due to a last minute change, I was working in another facility. As I heard the news of the attacks, my first concern was finding my friends who were in the Pentagon and ensuring they were safe. I was also very concerned about the safety of my family. Several members of my family are in the military and I wanted to confirm their locations and whether they were being deployed as a result of the attacks.
Fortunately the phones worked intermittently and I was able to confirm the safety of my friends in the Pentagon within a few hours. A call home also confirmed my family was safe. My sister and brother-in-law are both in training to be pilots in the Navy so they were safe from deployment. However, I learned my brother, an F-14 pilot, was recalled and had deployed with his carrier to defend the eastern approaches to the United States. He has since returned from that deployment, but is preparing to deploy for another six month cruise starting next month.
Later that day, I received a phone call informing me that I potentially would be recalled into the Air Force. The orders finally arrived, and effective November 25, I was officially activated back into the Air Force. I am now stationed at the Pentagon providing intelligence support to the Joint Chiefs of Staff in support of the War on Terrorism and Homeland security.
My return to the military has been difficult at times. I have to admit that occasionally I have become mired down by the long, exhausting hours and the financial concerns caused by the pay cut I have taken with this recall. These selfish feelings are quickly taken over by guilt when I remind myself of the incredible tragedy of September 11, and the importance of our response to these attacks. I do not know how long my recall into the Air Force will last, but I take great pride in the fact that I have been asked to aid in this effort.
kindness
Cindy Norris, Kansas Beta
My name is Cindy Norris, Kansas Beta, graduated from Kansas State University in 1984—I have been teaching for 18 years. The tragedy had a big affect on my students—here is what we did:
We wrote letters to the survivors at St. Vincent's Hospital right after the tragedy. We (my 6th graders and I), came up with a letter together and the kids then wrote it and drew art work to go along with it.
At the end of November, I saw an article on the NEA website about needing letters of support for the recovery workers at Ground Zero, so we wrote letters again.
We also collected dollars from children wishing to help out with the Children of Afganistan project.
This tragedy also brought out the theme of helping others—and has led to other local projects with our students.
I think this is the best time to really get kids to see the value of giving, helping and sharing—without always getting something in return. The kids have felt so good. Many of the letters and pictures included things about "to the Big Apple from the Little Apple" because Manhattan, Kansas is called the Little Apple.
patience
Amy Rosel Nofziger, Ohio Alpha
My husband, Matt, and I were on our way home from a week-long trip in Germany. We were tired and ready to sleep in our own beds. Half way through our trip home, the pilot came on and said that there was National Security Crisis in the United States and that all air space was closed and we needed to make a landing in St. John's, Newfoundland. We would be there in 30 minutes and when we got there we would be told more of the crisis. Those 30 minutes seemed like years. People were saying that "Bush was shot" or "those air traffic controllers on strike again."
Finally we landed and they told us bits and pieces of what happened. For the next 10 hours, the passengers of Delta flight 131 sat, slept, talked, played cards, called friends and family, prayed and watched the movie "Shrek" over and over again. Finally at the 11th hour (literally) we got word that we were the next plane to unload. At this point, we were told that the only luggage that could be taken off was a ladies purse. Nothing else.
Walking off the plane with guards and guns and dogs everywhere was scary; Matt and l locked arms and I said, "for no reason whatsoever do you leave me alone." Who knew what was going to happen? Customs checked us out, looked us over and asked us questions. Finally we were on a bus to somewhere we didn't know.
We ended up at this hockey arena, where the Red Cross was checking in all 37 wide body jets that landed at St. John's. We got some toothbrushes and made free calls to loved ones. Sitting in our section with our fellow passengers was the first time we finally saw what was happening in our country—we watched it on the jumbo-tron TV in horror. It still looked like it was HBO. Three hours later we were on another bus, this time to what would be our home for the next six days. We stayed at the Salvation Army church and slept on church pews. When we arrived at the church, they were all there with smiles, hugs, blankets, pillows, soap, clean underwear; everything you could imagine the church and community pulled together for us.
The next five days consisted of lots of tears, laughs, hugs with other stranded passengers, trips to the mall, Wal-Mart shopping sprees, movies, games and they even drove us sightseeing. The church organized a sing-a-long (I now know all the hand motions for "Swing Low Sweet Chariot"). But everyday we were there, I ached to be home. Everyday the airlines said we would leave and never did. Finally, on the following Saturday at 1 a.m., we were awakended to "buses will be here in 30 minutes" what great sounds...we were going home! We exchanged numbers, email, photos and hugs.
It was a long journey home, but when we landed in Denver and saw my sister standing there waiting for us, I broke down crying and was so happy for all the blessings that I have in life. It still amazes me—the caring people that I met in Newfoundland, and how much they took us under their wings and cared for us. I am very lucky, we definitely had some angels looking out for us.

repsonsibility
Stefanie Fulton, Mississippi Alpha
On Tuesday, September 11, 2001 I woke up to a beautiful day in Montgomery, Alabama. The weather was perfect. I arrived at the American Red Cross of Central Alabama at 7:45 a.m. Around 8:15 a.m., one of my coworkers said a plane hit the World Trade Center. I said to myself how awful and merely thought it was a biplane and a freak accident. On my way back to my office, I passed the Blood Donor Center and saw the burning building on the television screen. I walked in the room and continued to watch the news. They had just reported it was a commerical airliner that hit the building. I continued to watch and witnessed the second plane hit. I called my coworkers and we all started watching the news. They then reported the plane hitting the Pentagon and one hitting the ground in Pennslyvania. We all looked at each other and knew something was not right. America was being attacked.
After watching the news, I had to start my workday and headed back to my office. At 10 a.m., I noticed all these people starting to come into the Donor Room. I called the supervisor for Blood Services and told her we needed help fast. Our nurses were on their way to Mobile, Alabama for a meeting and we were short staffed. I immediately left my department—Health, Safety and Community Services—and started helping Blood Services. Everyone started pulling together to help Blood Services. Our nurses were called back to Montgomery, Alabama and by 2 p.m. we had opened an additional training classroom to help accomodate the crowds. I could not believe my eyes. People were coming from every direction. We had chairs lined up and down the hallway. Cars were parked half a mile away—all the way to the main road. Restaurants were dropping off food. I had heard that UAB hospital in Birmingham was preparing for burned victims, but they never came. Businesses offered their employees the day off to come to the Red Cross to see what they could do. Living memorials were set up by the Red Cross and placed in the businesses/churches throughout Montgomery and surrounding counties. Local children drew heart-wrenching pictures, wrote poems and created scrapbooks sending them to families involved in the tragedy in New York.
Before coming to the Red Cross, I had worked in Restaurant Management for seven years. I used the skills I learned in the industry to handle the large crowds waiting in the hallway. The only difference was, they weren't waiting for a table. They were waiting to give the gift of life—blood. Men and women waited up to nine hours to donate. I never had one complaint. We all kept a close watch on the television and talked amongst ourselves to pass the time. By the end of the day, I knew I was a part of history. Never in my wildest dreams would I have thought I would have gotten home at midnight. I became acquainted with the most wonderful, giving and loving people. People from all walks of life came together to donate blood, money and time. I saw firsthand what the American public is truly made of. Families were flocking to their place of worship. Road rage seemed to not exist. Patience became a pirority and everyone's heart was filled with compassion.
Prior to my arrival at work, I woke up just like everyone who lost his or her life that day. I showered, brushed my teeth, fed my dogs and drove to work. I think of all the kind and gentle people that looked fear in the eye that day and faced it with dignity. I think of all the families who lost loved ones and how they never had time to prepare like I had when I lost my parents to cancer. I think about all the firefighters, policemen, relief workers and volunteers who work tirelessly everyday at Ground Zero. I think how their lives will never be the same. I think of the dreams that were lost and I think about the children.
With compassion and respect, we recognize the following Pi Phis who lost their lives on September 11, 2001:
Melissa Harrington Hughes, Pennslyvania Gamma
Catherine MacRae, New Jersey Alpha
Mary Sheehan Wahlstrom, Ohio Beta

Published September 11, 2022