Celebrate International Women's Friendship Month  
During September, Pi Phi joins Kappa Delta Sorority to celebrate the important women in our lives. Childhood friends, college classmates, workplace colleagues and even family—the bonds we share with other women are truly empowering.⁠ Celebrate International Women's Friendship Month by showing your love and appreciation for the important women in your life. Below are a few ideas to get started.
1. Treat your friend to a coffee date
We all need a pick-me-up sometimes, whether it be coffee or quality time with a friend. Go to your favorite café, share a laugh (maybe a pastry) and cherish your sweet friendship.
2. Get in the groove
Great friendships have a soundtrack, whether the songs are from last semester or the last decade. Create a shared Apple or Spotify playlist with songs that take you back to your favorite memories with each other.
photo from @chelsi_may
3. Schedule a monthly book club
What's better than getting lost in a good story? Having a friend to do it with! Pick a book on your TBR pile and set a date to discuss with your closest friends. You can also join the Pi Phi Pages virtual book club to connect with other literacy-loving sisters.

4. Send a virtual wine carnation
Carnations symbolize love, so why not pass along some love to the important women in your life by sending a virtual wine carnation with a gift to Pi Beta Phi Foundation. Each carnation allows you to send a personalized message of thanks, appreciation and Pi Phi love.
5. Plan a movie night
Grab popcorn, candy and your best friends for a movie night. Choose a timeless classic or a new release and enjoy each other's company while you laugh (or cry) together. If you can't make it in person, schedule a watch party!
6. Make a friendship bracelet
Get crafty and carry the love of your sisterhood wherever you go with a friendship bracelet. Gather some materials from the craft store, search for some inspiration and get creative!
7. Schedule a lunch date
Nourish your body and your friendship over a lunch date with your closest friends. You can provide a listening ear to one another while enjoying your favorite foods! Can't make it in person? Order take out and catch up on Facetime or Zoom!
8. Write a personal note
Is there a friend, mentor or other woman leader you work with closely? Show how much you appreciate them by sending a handwritten note. Can you always count on them to be there for you? Do they empower you to lead and drive change? Tell them how you feel! It's sure to make their day.
9. Exercise together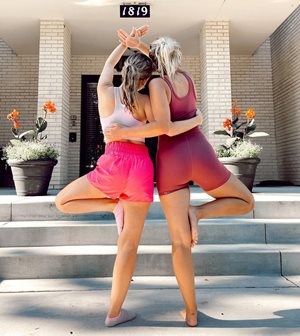 Moving your body can be fun, especially when you have a friend by your side. Dance it out, go on a scenic hike or breathe deep with a yoga class. The possibilities are endless.
photo from @piphiatksu
10. Hold a Pi Phi Cookie Shine
Celebrate the sisterhood that unites all Pi Phis by bringing your sisters and friends together for this cherished Fraternity tradition. Find a cookie recipe to bake and decorate alongside your friends or buy your go-to favorites from the grocery store. 


Published September 2, 2022