Bringing Books to Your Community
Pi Beta Phi believes readers become leaders, and one way we support this transformation is by celebrating Read > Lead > Achieve® month. There are many ways to participate and advocate for literacy, but during the month of September, chapters and clubs have a unique opportunity to bring books to their local community.
Through the FDS500 program, Pi Phi annually awards grants to schools and literacy-focused nonprofits nominated by Pi Phi chapters and alumnae clubs. In 2022, the grants will be used to support $2,000 worth of new books and school supplies through the First Book® marketplace to support children and their schools. In 2021 alone, these grants were awarded to 84 recipient groups with a total of 43,506 books made available to children who needed them.
The San Diego, California, Alumnae Club nominated Olivewood Elementary School to enhance students' literacy education and recently reflected on the impact the FDS500 Grant has made on the school.
"The video the school shared with us, of students filing by and selecting their books, brought tears to our eyes," said a member of the San Diego club. "The many socioeconomic and linguistic challenges the children and families of Olivewood have faced have been exacerbated by the pandemic; we appreciate this opportunity to support literacy and bring some joy into their lives!"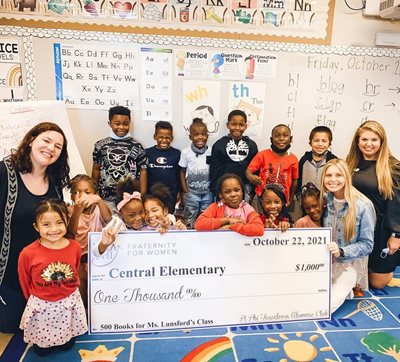 The Tuscaloosa, Alabama, Alumnae Club nominated Central Elementary in hopes of fostering a more inclusive education for their diverse student population. "It can be hard to find affordable books that are inclusive of all students' backgrounds," a member of the Tuscaloosa club shared. "This grant helped Central build classroom libraries with books that engaged the students, matched their reading levels and offered more representation."
For years, the FDS500 Grant program has impacted the lives of children in more ways than just their literacy education. These grants have the potential to change a child's life through creativity, imagination and curiosity. Whether children are in need of a more suitable education, accurate representation or a lifelong love of reading, these grants are an opportunity to make a difference. Learn more about the FDS500 Grant program and nominate a local organization at pibetaphi.org/fds500. Nomination forms will close September 16.
Your gifts to The Literacy Fund—no matter the size—make a profound impact in the way a child grows up in the world. Grants from our Foundation fully fund all Read > Lead > Achieve initiatives. Help us continue this support—make your gift today.

Published September 12, 2022