Learning as a Leader
Going into my freshman year during the pandemic, I was so nervous to enter a large university where I knew practically no one and had no clue what to expect. I wanted to find a community I could rely on and become involved on campus, so I decided to participate in recruitment. Although the entire process was virtual, I found myself so happy to talk with the women of Pi Beta Phi day after day. The conversations I had with the members were beyond genuine, and I could tell how deeply they cared about philanthropy and sisterhood. On Bid Day, I couldn't have been more excited to join this organization and gain lifelong friendships.
My first year as a member was filled with new beginnings. I made some of my best friends, joined my Pi Phi family, participated in our virtual Champions are Readers® program and involved myself in leadership by serving as Director Member Finances. This position taught me so much about the opportunities Pi Phi offers for its members and opened my eyes to leadership possibilities in the future.
When considering positions this year, I knew continuing to serve as a leader for Connecticut Alpha would teach me so much about myself and the sisterhood and help me gain valuable life skills. After I was slated in the role of Vice President Risk Management, I attended College Weekend alongside some of my fellow Executive Council members. I wasn't sure what to anticipate going into the weekend, but it turned out to be such an amazing experience—just like my first year as a Pi Phi.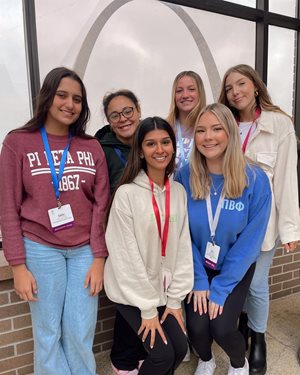 College Weekend went above and beyond my expectations. During the programming tracks, we learned the important skills involved in risk management. However, the best part was connecting with leaders from other chapters. We collaborated on new ideas, learned from each other's experiences and formed friendships I otherwise wouldn't have. Together, we bonded over the challenges of risk management and learned the best ways to approach tough situations. The friendships I gained and lessons I learned are some of the best things I took away from this experience.
Pi Phi taught me so much at College Weekend, and I truly enjoyed hearing from all the alumnae and mentors who attended the event. I learned about the organization's policies and procedures, as well as how to plan events successfully, prevent hazing and ensure we're supporting our members.
At Connecticut Alpha, we prioritize mental health and empower our sisters to be their strongest selves. While connecting with other leaders, I shared some of the activities and resources my chapter uses to ensure our members are supported; knowing they can bring those ideas back to their own chapters is so heartwarming to me. To all future leaders, I cannot encourage you enough to take the opportunities Pi Phi offers—they have made me into the leader I am today.
I want to sincerely thank everyone who made College Weekend possible—especially donors to Pi Beta Phi Foundation, whose gifts create leadership development and growth opportunities for sisters like me. The generosity of these Pi Phis and friends has given me the confidence to lead, the chance to strengthen my skills and a way to bond with sisters from chapters throughout the United States and Canada. I am so grateful to have attended this weekend and take what I learned back to Connecticut Alpha so I can help make my sisters' Pi Phi experience the best it can be.
As part of our commitment to developing confident leaders, Pi Beta Phi offers College Weekend to collegiate officers and members of Alumnae Advisory Committees as a collaborative, skill-building opportunity. With a variety of programming for each leadership role and the chance to connect with sisters from across the United States and Canada, College Weekend would not be possible without the generous support of our donors. Every gift ensures our members are empowered in their leadership journeys every day for years to come.
Published March 24, 2023