Which Pi Phi Founder Are You?
More than 150 years ago, 12 young women at Monmouth College came together to form a new organization grounded in shared values. That organization—originally called I.C. Sorosis—is now Pi Beta Phi Fraternity for Women, a sisterhood of more than 300,000 members. As we prepare to celebrate our 156th Founders' Day, we invite you to get to know more about each of our 12 founders. Keep reading to learn more, then take a quiz to find out which founder you most resemble.


Jennie Nicol, M.D.
Jennie was a pioneer among physicians, becoming one of the first women to study medicine. Her devotion to Philanthropic Service to Others led her to a career in medicine, and it is said that "no woman ever entered the profession with a nobler purpose."





Libbie Brook Gaddis
The youngest founder, she established Pi Beta Phi's second chapter at Iowa Wesleyan University. Of Sincere Friendship, she said, "for while there are deeper and holier relations than that of … Pi Beta Phi, still nothing purer or lovelier graces the name of friendship."






Clara Brownlee Hutchinson
Gentle and shy, she was Emma Brownlee's younger sister. In challenging circumstances, she showed an admirable strength of character.





Ada Bruen Grier
A teacher and minister's wife, she formed friendships in Pi Phi that lasted her entire lifetime. Her son, the Reverend James Harper Grier, became president of Monmouth College.






Emma Brownlee Kilgore

A true leader and the first President, she continued throughout her life to pursue Personal and Intellectual Growth by learning about numerous causes and good deeds to which she gave her leadership skills. The Fraternity coat of arms is derived from the Brownlee family crest.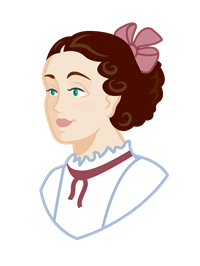 Fannie Thomson
In her passion for extension, she wished for all New Members to always uphold the values of Honor and Respect held by the 12 founders. She said, "Our object … is to send out into the world women who will ever be an honor and a blessing." Radiating happiness, with a beautiful voice, in her short year of membership she was a faithful and enthusiastic member. The first Pi Beta Phi Convention was held at her house in Oquawka, Illinois, in August 1867.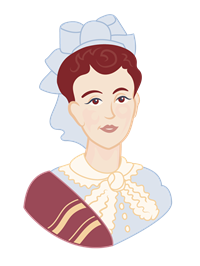 Margaret Campbell
Margaret was the first Treasurer in Pi Beta Phi. Her lifelong commitment to Pi Phi was evident when she moved back to Monmouth in the late 1920s and later attended the re-installation of Illinois Alpha. Margaret was the oldest living graduate of Monmouth College and the only surviving member of her class of 1867.


Jennie Horne Turnbull
Quiet and charming, she planned her life around her work as a minister's wife and Pi Beta Phi. Jennie was a charter member of the Philadelphia Alumnae Club and had Illinois Alpha granddaughters. Her vision of what Pi Phi would become characterizes this quiet and charming woman. "The founders dreamed dreams as to our future … words fail to express the pride the founders felt in the work, as we all should," she said.



Rosa Moore
Generous and sensitive to the needs of others, she spent her days in social work and missionary endeavors. Her Philanthropic Service to Others was realized through her social service work. We remember her famous expression: "The one word out of my heart to every other heart is give all that you are and have…"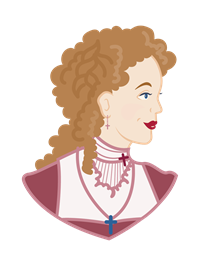 Nancy Black Wallace

Pi Beta Phi's first secretary and an enthusiastic extensionist. Her vision of extension was not daunted by the custom of discouraging women from becoming self-reliant. She expressed the opinion that, "one had to maintain a sort of 'sorosis' air to keep one's courage up," and went out to install Pi Phi's third chapter at the Seminary in Mt. Pleasant, Iowa.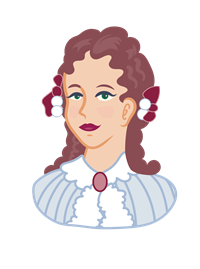 Inez Smith Soule
A tiny woman with a ready wit, she set a standard of loyalty and Lifelong Commitment. A member of Pi Phi for 73 years, she had the joy of seeing and keeping in touch with many young people who organized into collegiate and alumnae groups from coast to coast and also in Canada.



Fannie Whitenack Libbey
Throughout her life, she demonstrated her Lifelong Commitment to Pi Beta Phi by maintaining membership in an alumnae organization, continuing her interest and support for Pi Phi philanthropies and attending many conventions, where she often spoke. "In keeping with our aim, I like to think that each one gives out something of gladness, of friendship and of service," she said. It was in her home that the groundwork was laid for Pi Beta Phi. She always remained young at heart and found great joy in meeting with the women of Pi Beta Phi.

Published April 25, 2023