Pi Phi Teachers Rise Above
Back-to-school season brings its own set of challenges, but this year is different than any we've ever experienced. Our educators have been challenged in new ways and have gone above and beyond to provide for their students. We're sharing the stories of a few of our Pi Phi teachers as they return to the classroom — whether virtually or in-person.
Meet South Carolina Alpha Lauren Worley
Lauren is eternally grateful her passion for education led her to Pi Beta Phi. As a future teacher, she was interested in Pi Phi's philanthropic efforts promoting literacy.
Today, Lauren is a third-grade teacher in Fairfax, Virginia, where her normal workdays are full of active learning with students and colleagues. "Most days I'm not sitting in any one place for more than 10 minutes," Lauren said. Unfortunately, the ongoing COVID-19 pandemic has changed a lot of the best parts of teaching. "Interacting with students is the best part of my job, and it's hard to replicate that dynamic with every student in a virtual environment," Lauren said. "Students have needs beyond just the academic, and it was an adjustment trying to meet those social and emotional needs virtually."
She is grateful her school's staff embraced the situation as a learning opportunity. Teachers have been collaborating to create engaging resources for students, and Lauren was able to lead a training session and attend others led by her colleagues. She believes one takeaway from this pandemic should be the importance of schools and educators. "Everyone who works at a school wears many hats beyond teacher, administrator, librarian or custodian," Lauren said. "We work hard to meet not just our students' academic needs, but also their social and emotional needs."
Meet Wisconsin Delta Elizabeth Mortenson Finds
Motivated by how her own education experience impacted her life, Liz pursued a career in the classroom. "Some of my most vivid memories of school are when I felt safe enough to take risks and have the support of my teachers," Liz said. "I wanted to provide that same experience for other children." Today, she is as an elementary school teacher in Agawam, Massachusetts.
For Liz, the most rewarding aspect of being an educator is the relationships she builds with her students. "I am with them through their ups and downs, supporting them and helping them grow," she shared. "I love to see them gain confidence in different areas which previously made them anxious, and I'm so proud to be a part of their successes."
As an inclusion classroom teacher, half of Liz's students receive special education services and accommodations. Making sure all students receive what they need in order to succeed is another challenge Liz has faced during the COVID-19 pandemic. During the mandated stay-at-home order, Liz has learned how much more flexible and creative she can be as a teacher and is excited to take what she's learned with her when she returns to in-person instruction in the future.
Meet North Carolina Delta Jennifer Todd Shelton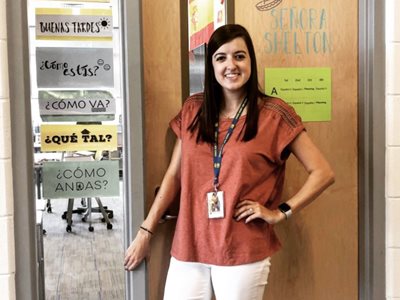 Growing up, Jennifer knew she wanted her future career to involve working with children. She wasn't quite sure what that would look like until she met her Spanish teacher, Ms. Edwards, in high school. It was during that class she decided she wanted to continue her language journey and become a Spanish teacher. Her role as a Spanish teacher in North Carolina, however, has been drastically altered due to the COVID-19 pandemic.
"Throughout my experience of teaching remotely, the biggest obstacle for me was trying to keep students engaged," she said. While she was just one of many teachers with this issue, she couldn't help but take it personally at first. "The number of participating students only kept decreasing as time went on this spring," she shared. "I was emotionally drained. I missed my students, my coworkers, and my classroom." As the next school year approaches, Jennifer is hopeful the school system finds a solution to keep students learning and everyone healthy.
While today's environment is radically different than one we've ever known before, Jennifer has leaned on her Pi Beta Phi sisters every day. "Not a single day goes by where I'm not texting a sister to chat, vent or be a listening ear," she stated. "Without these incredible women in my life, I don't know how I would keep my sanity."
Do you know an educator who embodies the values and virtues at the heart of our sisterhood? Show your love and support as she returns to school by sending her a virtual wine carnation at give.pibetaphi.org/carnation.

Published August 29, 2020