A Leader In Pi Phi's Literacy Legacy
Colorado Alpha Stephanie Aleman Sciez Shares Challenges of Teaching During COVID-19
Stephanie Aleman Sciez will always be thankful for how her Colorado Alpha sisters took her under their wings. They showed Stephanie the way in college and enriched her life with new ideas and expectations for what she wanted after graduation. Now, twenty years after joining Pi Beta Phi, Stephanie is about to begin her 15th year of teaching, a career grounded in Pi Phi's philanthropy mission of promoting literacy.
Stephanie teaches at Lansing Community Elementary School, where she is a literacy instructional support teacher. She works with students who have been identified as having a reading deficiency and are performing below grade level.
"I love my job because I love the kids I work with. My school is highly impacted and has a very high turnover rate of children from the beginning to the end of each year," Stephanie said. "My experience has been so rewarding because I have a staff who supports my work and students who enjoy meeting with me."
The last month of the school year is usually a mutual favorite between Stephanie and her students. The first through fourth graders get to put on readers' theater performances while the fifth graders get to pick a celebrity or artist they want to learn more about. Due to COVID-19, those plans were unfortunately canceled or modified with classes shifting online.
"I couldn't end the year with our fun reading activities or say goodbye to my fifth graders, who are off to middle school. With the adversity my students already face, the impact was even greater," Stephanie said. "I uploaded weekly books for my 17 groups and videos of me reading each book. Then, I held private one-on-one reading conferences with the few kids who could navigate the online learning to sign up with me."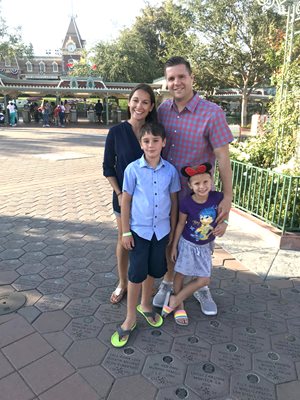 While there were tears shed by Stephanie and her colleagues, there were a few positives she took away from the unprecedented end of the school year. Stephanie has two children of her own who attend a full language immersion school and learn in Spanish. Along with the assistance of a translator app, Stephanie's father, who is a native Spanish speaker, has helped her with teaching her kids.
"My dad and third grade son met two to three times a week through Zoom to work on Spanish reading and schoolwork. My Spanish improved and my appreciation for the work my son does every day with translating between Spanish and English grew tremendously," Stephanie said. "I'm so proud of him. That was an insight I would've never gotten had he not been home doing school with me."
Stephanie credits Pi Phi in helping her find this loving family, as one of her sisters introduced her to her now-husband. With all it's given to her life — a professional passion and personal connections — it's important to Stephanie for young women to continue reaping the rewards of Pi Beta Phi.



Do you know a sister who embodies Philanthropic Service to Others through her passion for literacy? Show your love and support by sending her a virtual wine carnation at

give.pibetaphi.org/carnation

.

Published September 23, 2020