Monmouth Duo Celebrates 150 Years
Imagine this. It's October 13, 1870, at Monmouth College in Monmouth, Illinois. The women of Kappa Kappa Gamma walk into the chapel exercises displaying their Kappa keys for the first time. They're met by the women of Pi Beta Phi, the women's fraternity founded at Monmouth on April 28, 1867, wearing their arrows. And the men of Phi Gamma Delta, Delta Tau Delta and Beta Theta Pi wearing their badges, too. How exciting it must have been!
Monmouth College was chartered in 1857. Ten years later, Pi Beta Phi was founded by twelve bold, courageous women. In 1870, when six women joined together to form Kappa Kappa Gamma, only a quarter of Monmouth's 200 students were women.
The college's support came from the United Presbyterian Church and the institution was dependent upon funding from the church and its members. The Monmouth College Senate was under pressure from some sections of the United Presbyterian Church to ban the men's and women's fraternities. In June of 1874, the Senate passed a resolution doing just that. Little came of it at first, but the Presbyterians increased their pressure and decreased their support. This threatened Monmouth College's existence. By the late 1870s, fraternities bowed to the pressure and disbanded. Students signed oaths not to join the organizations. However, Kappa and Pi Phi still existed sub rosa (underground.)
Both organizations were very young when the Monmouth College ban went into effect. That Kappa Kappa Gamma and Pi Beta Phi exist today is an incredible feat — in those days, the alpha chapter was typically the governing body of a fraternity. Luckily for Kappa and Pi Phi, each extended beyond the Monmouth campus. Other chapters took up the mantle and continued on. At their respective conventions in 1884, both alpha chapters were asked to surrender their charter and each organization formed a Grand Council for governance.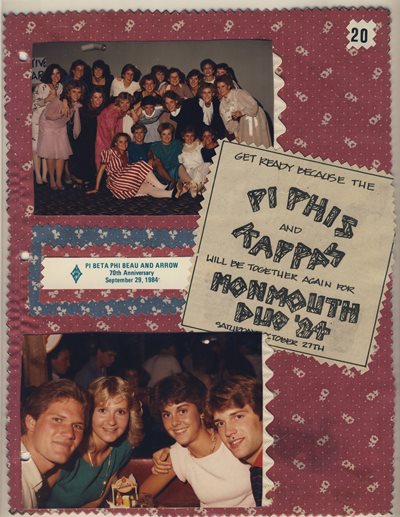 According to the centennial history of Monmouth College, "The women were more tenacious and more determined to keep their organizations alive than the men. The members of Kappa Kappa Gamma and Pi Beta Phi never gave up hope of rejoining their national sororities and they passed on the ideals of their respective groups to the second and even the third generation."

Years later, Monmouth College allowed national organizations to return to campus. Pi Beta Phi's Illinois Alpha Chapter came back to life in 1928. Kappa Kappa Gamma's alpha chapter was rechartered as Alpha Deuteron in 1934.



Since their return to Monmouth College, chapters and alumnae organizations have celebrated their unique connection. Kappa and Pi Phi members regularly host "Monmouth Duo" events to commemorate their shared beginnings. To this day, the wearers of the keys and arrows celebrate their intertwined history on the Monmouth College campus.
Happy 150th Founders Day to our sisters at Kappa Kappa Gamma!

Published October 13, 2020