Jean Wirths Scott 2019 Leadership Award Winner and Finalists
The
Jean Wirths Scott Leadership Award for Outstanding Change Leadership
recognizes a junior or senior who has served on Executive Council or the Collegiate Panhellenic Council, and has served in an exemplary manner in the performance of her duties. Specifically, she has implemented changes and improvements in her chapter or the local Collegiate Panhellenic Council. With 2020 award nominations underway, we are highlighting the 2019 Jean Wirths Scott Award winner and finalists.
Winner: Jihana Mendu, Illinois Kappa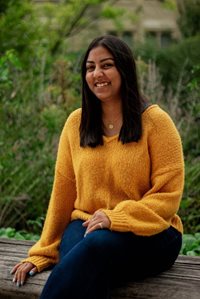 When Jihana entered her role as Vice President Membership, Illinois Kappa had struggled with low retention rates, inconsistent programming and membership satisfaction. In her role, she worked with local and regional advisors to implement a longer New Member Period to better fit the University of Chicago's quarter system, adhere to Pi Phi regulations, improve the New Member experience and boost retention rates. Jihana is a leader who listens and learns from those around her. As Vice President Membership, she increased chapter morale and recruitment involvement by modifying the voting adjectives to increase inclusivity and creating a post-recruitment feedback forum.
On the Panhellenic Council, Jihana worked with the judicial board in order to improve policy education which resulted in a decrease of recruitment infractions. She also worked with other members of Panhellenic Council to facilitate conversations with fraternities about risk management training – improving the safety of fraternity/sorority events on campus.
Finalist: Greta Dunn, Washington Gamma
Greta served as the Director of Recruitment on the Panhellenic Council at the University of Puget Sound. In this role, she worked to build a sense of community with the sororities on campus by fostering relationships between each chapter's recruitment chair. Greta was able to increase retention rates within the Panhellenic community by 10% despite the incoming group of Potential New Members being one of the smallest groups to ever go through Panhellenic recruitment. She did all of this while navigating difficult conversations and fostering positivity and community.
Through great communication and creativity, Greta makes her team feel empowered. She delegates to her team and ensures everyone feels they have a purpose in the group. Greta always makes people feel included and supported in their work and will humbly assist anyone who needs help. Her perseverance inspires others to maintain a goal and keep working at it, even when it becomes difficult.
Finalist: Madeleine Ference, Georgia Beta
Over the past four years, Emory University's Panhellenic Council saw an overall downward trend in women registering for recruitment. As Vice President of Recruitment for the Panhellenic Council, Madi was tasked with leading the charge to change the recruitment process and better exemplify sorority life on campus. She eliminated one event and created two new events to better highlight sorority community which resulted in an increase in the number of women who registered for recruitment for the first time in several years. Madi's efforts to improve the campus' recruitment process not only increase the number of Potential New Members, but more importantly, influenced how women felt about joining a sorority.
Madi demonstrates leadership with confidence, integrity and commitment – strongly exemplifying servant leadership. She knows how to delegate to maximize the efficiency and quality of the task at hand, but ensures her team feels empowered by the work they're doing.
Celebrate and honor a junior or senior member for their contributions in 2020 by nominating them for a Pi Phi Award. Nominations are now open and will close February 15, 2021. The full list of awards is available here.

Published January 25, 2021
photo source: indiaspora.org