Silver Slipper 2019 Award Winner and Finalists
The Silver Slipper Award
recognizes a Vice President Finance/Housing who has demonstrated excellence in her role. This award honors a past Grand Treasurer, who coincidentally had a love of shoes. The award itself is a silver slipper charm – honoring the original award, which was a silver shoe. With 2020 award nominations underway, we are highlighting the 2019 Silver Slipper Award winner and finalists.
Winner: Amy Burke, Lousiana Beta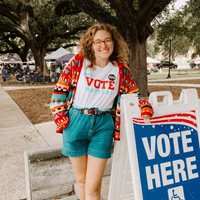 During Amy's time as Vice President of Finance, the chapter faced an unexpected budget reduction. Amy accepted the challenge and worked with officers to provide a new budget for the semester. She developed an innovative and user-friendly system that allowed officers to track their expenditures and know their available budget in real-time. Amy also set up efficient systems for check requests and authorization for large expenditures, and she organized the chapter's filing system for invoices, payments and other financial records.
In addition to creating efficient procedures, Amy was intentional in her interactions with members. When members did not pay their bills on time, she met with them to discuss their situation and figure out solutions in a way that demonstrated Honor and Respect. Amy shared more information about the Emma Harper Turner Fund Grant with several of the chapter's members and assisted them in preparing their applications for the grant.
Finalist: Emily Bates, Alabama Beta
The Vice President of Finance often works behind the scenes signing checks and balancing the books, but Emily implemented programs and provided resources to interact with chapter members. Throughout her term, Emily shared finance tips like how to save money by preparing meals at home. She helped members create budgets and discover phone applications that would help them budget better. Additionally, Emily scheduled a speaker from Bryant Bank to discuss personal finance, how to budget, how to open a savings account and how to build credit.
Emily also worked with Regions Bank to negotiate a higher interest rate for one of the chapter's savings accounts. She was able to negotiate a higher rate, significantly increasing the funds in the chapter's account.
Finalist: Kaitlyn Rowland, Michigan Alpha
As Vice President of Finance, Kaitlyn made it a priority to reorganize financial records by destroying records past the seven-year inventory management date. She also organized current files for easy access. Kaitlyn spearheaded communication with the Chapter Housing Corporation, Regional Team and Headquarters to make a $50,000 gift to the Chapter Housing Corporation for an Angel Memorial fire pit honoring Michigan Alpha sisters who have passed away. She also worked with the Regional Team to create a scholarship for Michigan Alpha members.
During her term, Kaitlin updated the chapter's financial systems with Hillsdale College administration after a change to the reimbursement process. While the change impacted the chapter budget because there were less expenditures available, Kaitlyn assisted officers in navigating ways to decrease expenses so dues were minimally raised.
Finalist: Katrina Smullin, California Theta
In her role as Vice President of Finance, Katrina worked with chapter members and the Executive Council to create a budget that was both realistic and allowed for exciting opportunities. Throughout the year, she took careful note of where chapter officers were struggling with their budgets and made changes when she could. As a result, members' dues were significantly lower for the 2019 term – a goal she set to achieve after realizing that financial distress heavily influenced resignations.
Katrina also expanded her role beyond finances to creating meaningful relationships with the Chapter Housing Corporation in ongoing discussions regarding rent and renovations – all while maintaining respect and consideration. Helping with chapter finance is how Katrina shows her love and commitment to the California Theta Chapter and each of her sisters. She was a constant resource for the chapter's first Vice President Finance/Housing, and she even met weekly with directors to help with budget planning.
Celebrate and honor your Vice President Finance/Housing by nominating them for a Pi Phi Award. Nominations are now open and will close February 15, 2021. The full list of awards is available here.

Published February 8, 2021