Plan a Reunion at Convention 2023
Coming together with your sisters is a guaranteed way to lift spirits and relive cherished memories, but with the responsibilities of daily life, a reunion can be difficult to plan. Convention 2023 is the perfect opportunity to gather sisters from your Member Class and surround yourselves with friendship and Pi Phi Pride. If you've been wanting to plan a reunion but don't know where to start, check out our ideas below!


1.) Call your sisters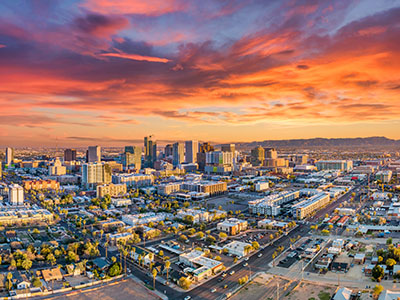 Promote the trip in your Pi Phi Facebook groups, on your alumnae club's social media or your own. You may be able to reach more sisters and inspire them to join, or you may encourage sisters from other chapters to plan their own reunion at convention!

Even if not everyone can make it, a mini reunion is still worthwhile!
2.) Plan your stay
Once you have your group, figure out a time when you can all meet up—maybe it can be a brunch date near the resort or meeting for coffee during a programming break. Need some ideas? Check out our Insider's Guide to Phoenix blog post for all the best restaurants and sites to visit!
3.) Book your travel
If you're planning on attending convention, you must register by June 1 as well as book your own travel. If you want to spend some extra time exploring sunny Phoenix with your sisters, extend your stay at the resort!
There are many registration options to make attending convention affordable. Can't join for the full event? That's okay—come for a day or even just a meal! Find the best options to fit your schedule and budget here.
4.) Capture the memories
As you and your sisters soak up the sun and the Pi Phi Love, capture your time together so you can always have those memories to look back on. Share photos on your social media and be sure to tag @pibetaphihq or tell us about your reunion by using the
Submit a Story
form on the website. Your stories could be featured in an upcoming publication!





Registration for Convention 2023 is now open through June 1! To register and for more information about this once-in-a-lifetime celebration, visit

pibetaphi.org/convention.
Published April 10, 2023